Native YouTuber raises money, delivers COVID supplies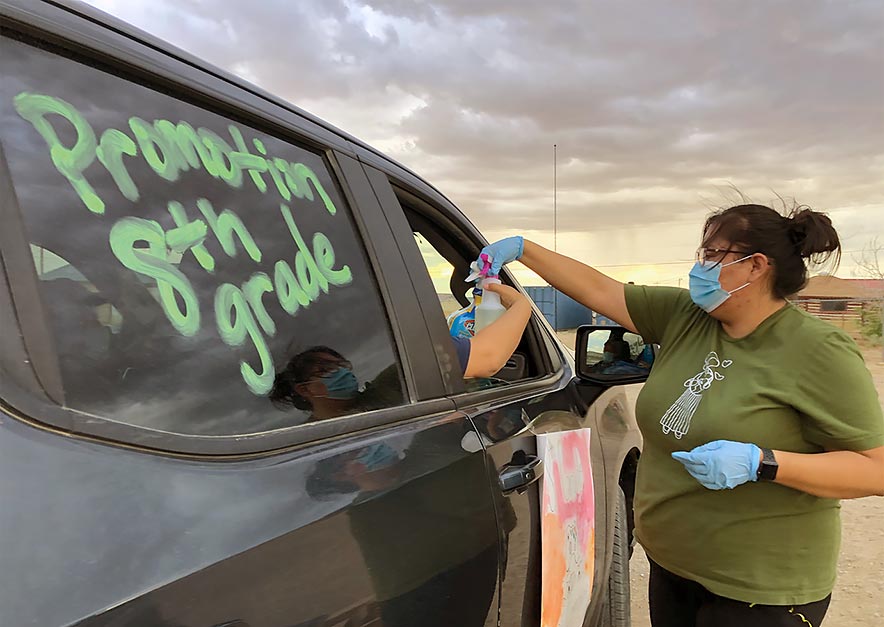 SANOSTEE, N.M.
The sun was setting and sprinkles of rain started to gently fall. The rain was so soft it was easy to miss. Sierra Johnson, a Native YouTuber, was standing next to her 2014 Ford Focus.
The parking lot of her chapter house in Sanostee was empty and nearly everyone had gone home except her. Johnson's car had gotten a flat tire and she was waiting for her brother.
This was after she spent the last hour giving out COVID-19 relief supplies to her community. Johnson was raised in Sanostee and her family still lives there. She had driven some six hours from where she lives in the Phoenix metro area to not only celebrate her little sister's graduation from high school but to give out much-needed supplies to her rural community.
"A lot of people from my YouTube channel kept asking me, 'Hey, where can I donate? How can I help?'" Johnson said. Johnson has 13,400 subscribers on her YouTube channel.
She directed them to organizations that were accepting donations before starting her own. "I feel like a lot of them just trusted me because they felt like they knew me through my videos," she said. "So I took that responsibility."
Johnson was hesitant at first to start a GoFundMe, but her subscribers kept encouraging her to. They wanted a place to donate where they knew who they were donating to. "It's a lot of work," she said. "It's very overwhelming. Also just to be held accountable for that much money. It's not a lot-lot, but it's money."
She raised nearly $4,500. With the money, Johnson has been able to purchase disposable masks, reusable masks, antibacterial hand soap, hand sanitizer, Clorox sprays she made herself, Clorox wipes, Lysol sprays and rags. "It's crazy to see how much people support someone they don't know," Johnson said. "It's a whole different feeling just to know that these people support you so much. Not only me but where I come from, too."
Johnson wanted to give out supplies that would aid in the prevention of spreading COVID-19 over food boxes. Per CDC guidelines, people should be wearing masks in public, using hand sanitizer or washing their hands frequently and wiping down high-touch surfaces with a bleach mixture. "My main priority was how can I help the most?" she said. "Preventing the spread."
Her efforts, like those of other relief organizations, have been affected by lockdown hours on the Navajo Nation. It's made it difficult for Johnson to find a place where she can give out supplies. "Delivering them to every person is just not going to happen with that time restraint," she said. "With work I can only take a day off. So it's hard to get a day off."
To work efficiently, Johnson leaves from the Phoenix valley at 4 a.m. The bags of supplies are already separated and put into little packs. "Time's not spent bagging those items or doing that type of stuff," she said.
Johnson is happy that she can use her platform to help her community during this really tough time. "I'm able to give back to people who have a hard time finding these supplies or people who can't even afford it," she said. It's no secret that the Navajo Nation doesn't have basic home utilities like running water and electricity.
To combat this Johnson did something out of the ordinary. "I also ordered portable hand-washing stations," she said. "Those will be going to people without running water." Johnson is excited to give these out. She is continuing to raise money and has been providing frequent updates on the supplies she's purchased, even including the receipts for the items.
Johnson keeps the donated money completely separate from her personal money. "I have everything here if anyone wants to see them," Johnson said. She makes sure to document everything and have receipts for everything. "Zero embezzlements," she said with a laugh.
Information: www.gf.me/u/ynq2ui
---