'It's knowing what they want'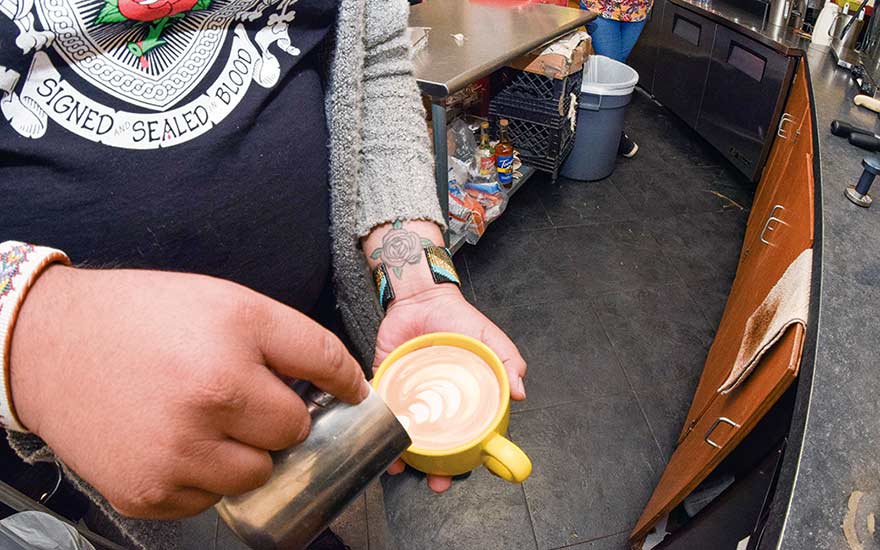 Started for tourists, Hogan Espresso has become relaxed local hangout
TÓNANEESDIZÍ
When customers at Hogan Espresso and More order a latte, the barista pours a heart and a leaf-like rosetta into their cup. To pour latte art like that, the baristas at Hogan Espresso say, one needs to master basic skills: the espresso must be good, and the milk crafted to silky smooth microfoam.
"We kind of have fun with it," said Reanna Beard, a barista at the popular coffee shop on Main Street. "It makes our customers happy. You always see that smile."
Beard, from the nearby Kiis'áanii Village of Moenkopi, is still learning to perfect her latte art, which takes a lot of practice and determination to become proficient. One of the hardest things for a barista to learn when making espresso-based drinks is steaming milk, according to Beard. Because only with smooth milk can latte art be made. "Every time (someone) orders a (latte), I try to make something," Beard said.
"They really like it. I tell them I'm still learning, and they'll encourage me and give me compliments, (which) I like to hear." With cappuccino milk, one can make basic hearts and tulips, according to the baristas here. But with latte milk, one can make everything else, including rosettes, swans, zebras, and other difficult patterns.
The difference between both is one – cappuccino milk – has a bit more foam than the other. "It would be nice to get our business out there because not a lot of people know we're here," Beard said. "We have our own local coffee shop here and our coffee (Firecreek Coffee) comes from Flagstaff."
---