MV's Tsinigine wins Utah 1A state wrestling title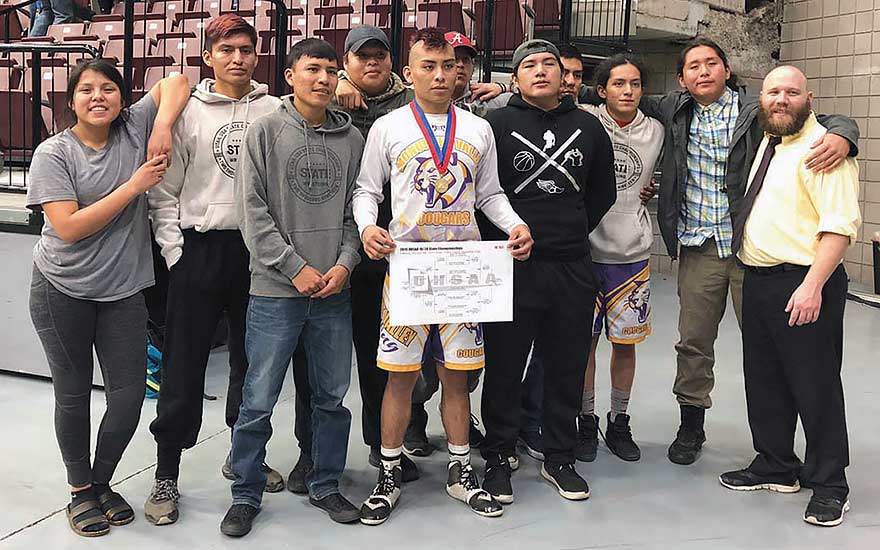 MONUMENT VALLEY, Utah
Tanner Tsinigine, a junior, brought home to Monument Valley High a state wrestling championship in the 152-pound division from the Utah 1A state wrestling tournament held Feb. 8-9 in Richfield.
Tsinigine also was named most valuable wrestler of the tournament by participating coaches.
Tsinigine defeated Zac Cecil of Monticello in the championship match by a score of 4-3. It was the third time this year the two had wrestled with each winning one match entering the championship bout.
Tsinigine finished the year with a 40-6 overall record.
"Winning state in wrestling to me is a big accomplishment," Tsinigine said. "It shows I can hang with the better schools and it shows me, a Navajo, that my hard work in the off-season and during the season paid off.
"It shows I'm dedicated, driven and motivated to do whatever it takes to win," he said. "Winning state shows I had the biggest heart."
"We haven't had a state champion here in a long time," said proud assistant wrestling coach Cal Lameman. "We came close to having four wrestlers finish in the top four."
MV wrestlers who were one win away from the final four were Tyler Cly, Tommie Kaytso and Caleb Lameman. Rodrick Cly and Kira Grandson also qualified for the state tournament.
Lameman said he is encouraged about how the team wrestled as a whole. "They really came together as a team and were pushing each other," he said. "They were encouraging each other. We want to build on our success. A lot of our kids have now experienced the state tournament and know what it takes to get to the top four."