Just-A-Buck opens in Tónaneesdizí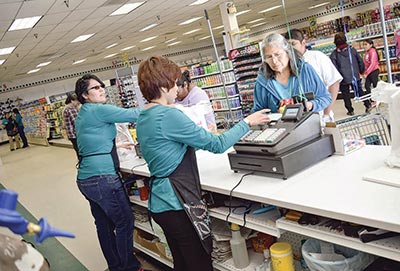 TUBA CITY
Miss Western Navajo Teen Shalby Del Villar on Saturday bought a number of L.A. COLORS cosmetics and a measuring tape for just a few bucks at the new store within the Tónaneesdizí Shopping Center.
"They're L.A. COLORS and I got a measuring tape for just a dollar," the exuberant teen said about her purchase. "I measured myself from head to toe because I was just so excited about it."
"The Peterman family is so polite and they know what they're doing," Del Villar added.
The Tónaneesdizí community came together that morning for a ribbon-cutting ceremony to celebrate Just-A-Buck, a dollar store retail chain with 17 locations in New Jersey, New York, Ohio; one in California; and now one in Arizona.
"And definitely the only one in the Navajo Nation," said Anthony Peterman, a businessman who along with his family operates the new store where they saw hundreds of people come through the doors during a week-long soft opening that started on Jan. 28.
And dozens turned up over the weekend to inaugurate the official opening to the general public.
But Peterman, who is the policy advisor in the Navajo Nation Office of the Speaker, says a ribbon cutting and the success does not make "everything all right," but it is a culmination of a lot of hard work and perseverance.
---