'Highway of Hope'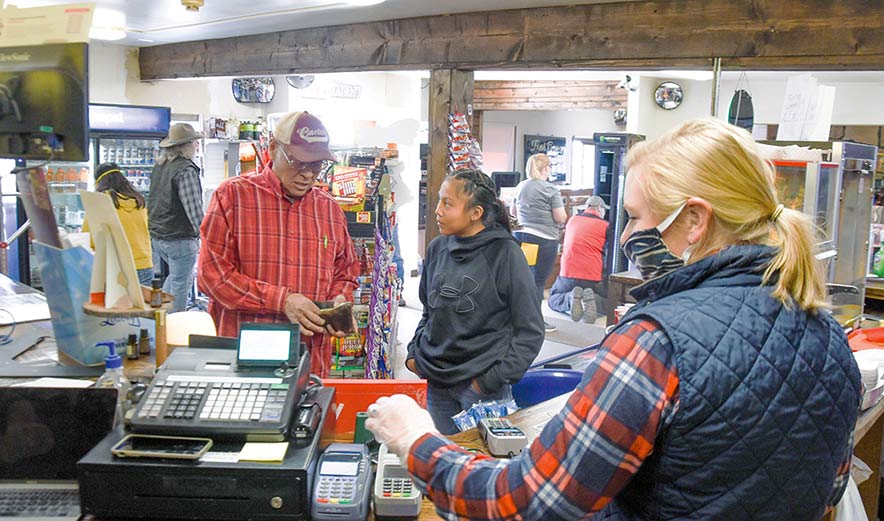 By Krista Allen
Special to the Time
ANTELOPE HILLS AND DZIŁ ŁIBÉÍ, Ariz.
The co-owners of a small trading post alongside U.S. Route 89 are spreading a message of hope and unity in the wake of the coronavirus outbreak.
Hank's Trading Post co-owners Michael and Morgan Fatali have dubbed U.S. 89 between Flagstaff and the Utah border as "A Highway of Hope" to help those living near the highway move forward with faith in today's perilous times.
"For us … what makes us happy and what gives us a sense of purpose and being connected is to shed hope and to focus on the positive things," said Michael.
Michael, who goes by pseudonym "The Light Hunter," said hundreds of families, including Diné families, live near U.S. 89, a normally busy highway that is now almost abandoned – a strangely unsettling phenomenon – as northern Arizona grapples with the coronavirus pandemic.
"It's just our way of communicating that there's hope," Michael said.
Shortly after the city of Flagstaff and the Navajo Nation declared a public health emergency in March, Michael and Morgan, along with their staff and Leland Jones from Na'ní'á Hasání, started a GoFundMe campaign in an effort to provide relief to the Natives living near U.S. 89 affected by the coronavirus that causes COVID-19.
The campaign raised a total of $1,440 of a $5,000 goal as of April 4. The funds will be given to the Navajo Nation after reaching the goal.
Hundreds of Natives, a majority of whom are Diné, living near U.S. 89 have lost their jobs and the economies are suffering as once-bustling tourist spots alongside the highway, including the roadside vendors and the gateway community of Na'ní'á Hasání outside Grand Canyon National Park, have an eerie emptiness.
"The coronavirus has begun to greatly impact the economy of travel (and tourism) along Highway 89 and putting the livelihoods and families of the Native people at risk," the group's campaign description reads. "It was already hard enough for (the hundreds) of Navajo and Hopi that have been affected by the (closure of the Navajo Generating Station). Now, the Native people are getting infected …"
The description points out the need for emergency food items such as water, shelf-stable foods, perishables, and long-term foods for elderly and children. The campaign also calls for volunteers to help safely deliver food and supplies to the Native families living near U.S. 89.
Volunteers will be part of Michael and Morgan's Light Ranch Mission, an emergency food and clothing closet, which is open Thursday through Saturday from noon to 5 p.m.
Michael said a lot of people have been stepping up by donating essentials that the Hank's Trading Post team is delivering to families on a daily basis.
"We're just doing whatever we can to help," Michael said, "just trying to focus on faith and hope during these times. It will pass. When it does pass, I think it's going to change us all in a positive way.
"Our priorities are going to be more focused to nature and beauty and each other's compassion and we're living in some dark times for a long time," he said. "This is my own personal belief that the best out of people were not being shown."
Disasters, such as the coronavirus pandemic, bring out the best in people, according to researchers. This means that some people become more considerate, more compassionate, and more willing to help during mass emergencies. Others might panic or riot.
"I think it's going to bring more compassion and one another helping each other," Michael said. "That's what I get from the feeling of all of this. We're taking it day by day. We're just a small business, so we have our own struggles."
Hank's Trading Post, at 31926 N. Highway 89, is classified as an essential business that offers a full-service gas station that offers the Arizona lottery, the Easy Joe's Saloon, hay, popcorn – a bestseller — among others.
"We pray every day that these families will be safe and protected and just holding on hope that this is going to be a better world after this," said Michael, who along with his wife, moved here from Utah and purchased Hank's Trading Post in June 2019 to get to know the community and be near Dook'o'oosłííd.
"We've really been working hard to create a new image of the trading post as far as what we offer and what we can do for the community moving forward," he said. "And that's what brings us joy."
Michael and Morgan both have a background in fine arts, film, counseling, and healing. The couple said they have been working with Diné artist Candace Williams, originally from Tolani Lake, Arizona, to paint a mural on the store to spread a message of hope through her art.
Michael and Williams, 30, on Friday morning prepared the wall and began painting around a window that will be used for drive-through shopping, to enforce the social distance code and to reduce the number of people inside the trading post.
"Spread hope and all that – positive vibes to what's going on right now," she said as she painted a hummingbird, which is often seen as a healer and a bringer of love, good luck and joy. "Say you're out walking around and you're having a bad day or you're having a good day, there are hummingbirds that come in and they fly around, giving off energy and positive vibes. That's what I feel would be good for a drive-up window."
Hank's Trading Post is open Wednesday and Thursday from 10 a.m. to 6 p.m. and Friday and Saturday from 7 a.m. to 7 p.m. The trading post is closed Sunday, Monday, and Tuesday.
Michael added that he and his wife tell all of their customers before they leave the store, "Have a blessed day."
Information: Hank's Trading Post, 928-679-2357.