COVID turns rodeo 'stock market' bullish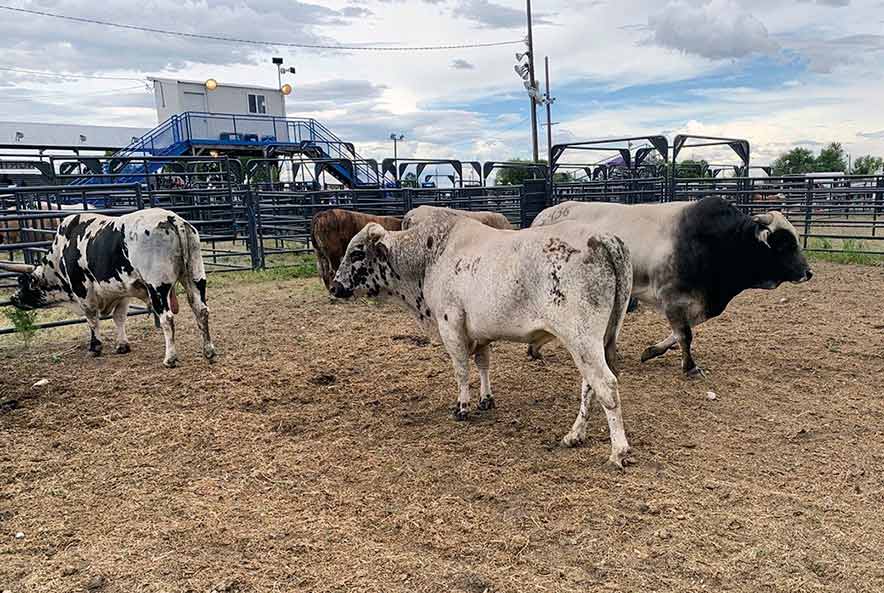 WINDOW ROCK
The market for bucking bulls right now "is kind of bittersweet."
That's according to Diné proprietor Bert Jones, who owns nine bucking bulls that are used for PBR events and Indian pro rodeos. The Kayenta-based stock contractor also sends his prized bovines to local amateur bull-riding events across Navajo land.
Jones based that assessment on the COVID-19 pandemic, which has canceled rodeos across the region and put a stranglehold on the stock contracting business.
"It's impacted us a lot, especially when you have bulls that buck in the PBR," Jones said in a telephone interview with the Navajo Times. "Those PBR events pay out pretty good so financially it's hurting us."
With national guidelines in place trying to slow down the contagious virus all public events have been either cancelled or postponed.
With that, Jones said, some stock contractors are starting to feel the pinch. And with no money coming in from their businesses, some contractors are facing tough decisions on whether they should sell their bulls to make ends meet.
"It's kind of a good time to buy a bull if you're in the contracting business but it's also a bad time to sell your bulls," Jones said, "so it's kind of bittersweet. If you're trying to sell a bull you're not going to get the price you want."
With no income from his prized bovines, Jones said he's had to fall back on his day job to help pay the bills as well help maintain his animals.
"We're doing OK for now," he said. "I was talking to a friend about the feeding cost. I told that if I needed to I could sell a bull and it would probably be enough to get through what's going on."
On a weekly basis, Jones said he's spending anywhere from $600 to $800 caring for his bulls, which are penned up on a couple of acres he leases in Coolidge, Arizona.
He said most of it is spent on hay and grain, with a few other dollars going to other needs such as routine vaccines.
In addition to his bulls, Jones said they have a couple of ranch horses to take care of.
With the coronavirus, "it's kind of put a damper on our business but it's times like this that you have a backup plan."
In his 19 years in the business, Jones said he's built a nest egg to help him get through this as his hours as a welder at Midstate Mechanical in Scottsdale, Arizona have dropped significantly.
"Right now I'm working 20 hours a week," he said, noting that a regular workweek is 50 to 60 hours.
"It's not what it is normally but it's getting us through," he said.
Tuba City stock contractor Justin Granger is also feeling the effects of the coronavirus pandemic.
"The bulls that we have pretty much provided for themselves," the co-owner of the YG Cattle Company said. "We haul them to all these events and they get paid to buck out."
But with the cancellation or postponement of all events, Granger said they have to go out and provide for their animals.
"I also have some young calves and I have other cattle penned up," Granger said. "I also have some horses as well so I'm not just feeding bulls."
And while his production company reduced its stock from 10 bulls to six before the pandemic, Granger said they're paying upwards of $300 a week for feed.
"We're lucky and fortunate enough to have a hay seller that brings big bales from Utah," he said. "Their hay usually runs about $140 and it usually it lasts about a week."
In addition to the cattle, Granger said they spend about $30 a day for feeding their horses.
"We spend a lot but it's nowhere near what everybody else pays that do rodeo," he said. "They have a lot of animals to work with."
Like most, Granger is looking forward to getting the season started.
"I would like to have this end because everyone is looking forward to the new season," he said, adding that it's tough to stay at home.
"I would rather be out there but then again it's nice to be home," he said. "With everything being cancelled everyone is getting rested up and hopefully they'll be prepared when we get the year rolling."
To date, Granger said he's had two events either cancelled or postponed. With what the health experts are telling people, Granger is anticipating a few more shows falling to the wayside.
"We just have to wait until this quarantine ends," he said. "Right now it's best that we stay way from each other. We'll just have to wait for the Navajo Nation government to tell us when it's safe to be out and about."
Jones, meanwhile, has had a few events cancelled including the Unleash the Beast Glendale Invitational that was scheduled for March 21-22. Four of his bulls were supposed to buck at that event.
"That was the first event we were supposed to go to," Jones said. "That is where we were going to kick things off, and after that we had a couple of small amateur events before we were going to buck two at the Ty Murray Invitational."

---