Surprises rule at Chinle bee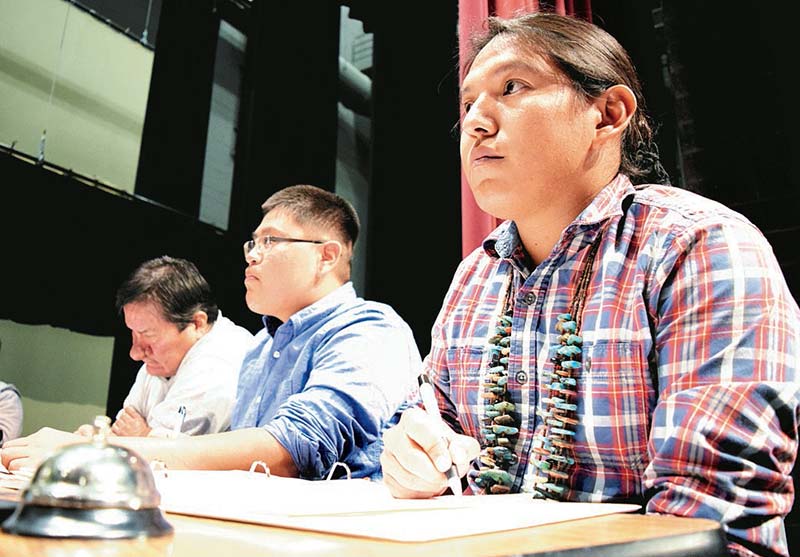 Last year's champ out in Round 1; former champs pronounce
PIÑON, Ariz.
For last year's two best spellers, it was a fast downhill ride at the Central Agency Spelling Bee. And there was another surprise for veteran bee watchers: two former Navajo Nation champions, now high school seniors, took to the mike as pronouncers.
Last Thursday, Central Navajo's best and brightest spellers lined up on the stage at the Piñon High auditorium to vie for championship. And for a chance to compete at the Navajo Times' Navajo Nation Spelling Bee in March.
Eleven schools – Canyon De Chelly Elementary, Chinle Elementary, Chinle Junior High, Lukachukai Community, Many Farms Elementary, Mesa View Elementary, Piñon Accelerated Middle, Piñon Elementary, Rock Point Community, Tséyi' Homeschoolers, and Tsaile Elementary – took part Thursday in the Times' Chinle Bee where five champions and five runners-up, in each grade competition, were declared.
The big upset came in the sixth-grade competition. Fifteen spellers competed, of which 11 – including Kelvin Winney, the champion of the 2015 Navajo Times Navajo Nation Spelling Bee – were eliminated in the first round.
Winney misspelled "toboggan" as "tobaggon.
---