Tohatchi High STEM students win award for cellphone signal device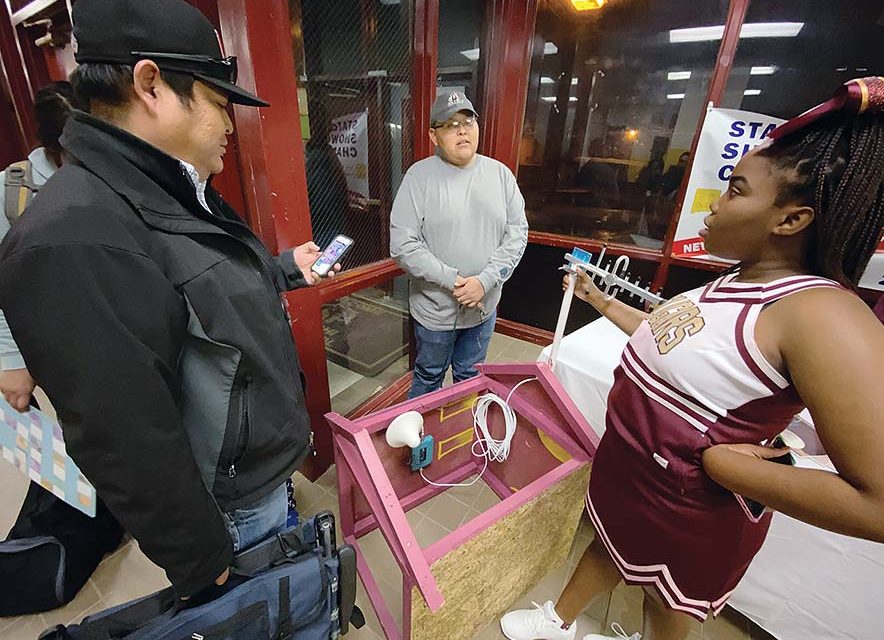 TOHATCHI, N.M.
The challenge to improve cellphone signal strength got four Tohatchi High students an award from the first-ever New Mexico Governor's STEM Challenge.
While the recognition was appreciated, a chance to help reservation communities get better signal strength was the greater mission that would help people have access to 911.
Called the "At-Home Cell Phone Tower: The Key to Better Emergency Communication," students Matthew Manuelito, Tahira Mason, Brian Chee, Cyprus Mike and Ezriel Benally used recycled material to build a working cellphone signal booster.
The idea for the project was not hard since signal strength on the reservation is usually never strong. But it was not until they read an article that they decided to build one.
"We saw an article and we thought it was a good idea,"Mason said, who is a senior. "We wanted to build it and also find a way to make it cheaper."
The students used a doghouse and spiffed it up with the school's colors, which is maroon and yellow. After a few more altercations, they bought a radio frequency module from Amazon, an antenna, some cables, and put it together.
Two months later, the students had themselves a working cellphone signal booster.
Mason said she noticed a slight increase in signal strength on her cellphone.
The students entered the STEM challenge on Dec. 7 at Los Lunas High in Los Lunas and competed alongside 45 teams from public, private and charter schools from throughout New Mexico.
The competition tested the students' ability to use science, technology, engineering and math to solve real-world problems.
The challenge was a collaboration between the Department of Public Education, the Department of Workforce Solutions, Los Alamos National Laboratory, and the governor's office.
Gov. Michelle Lujan Grisham said she was "thrilled and inspired" to see the ingenuity of the students.
"It's a reminder to all: New Mexico's best and brightest are on the cutting edge of the science and technology advancements that will define our shared future," Grisham stated in a press statement.
Each team was composed of up to 10 students who have made a computer simulation or prototype answering the question posed by Los Alamos National Laboratory: "How can you use science and technology to make the world safer?"
For Mason and Manuelito, who had their winning project on display during a Lady Cougar basketball game, their ultimate vision of how they could serve their community and other reservation communities, was still in the works.
"Right now we are trying to figure out how we can distribute this out to communities," Mason said, who had to get back to her cheerleading duties after the buzzer to start the third quarter went off.
Each student on a winning team took home $500.
---