Trail riders set out in support of NTU's 40th year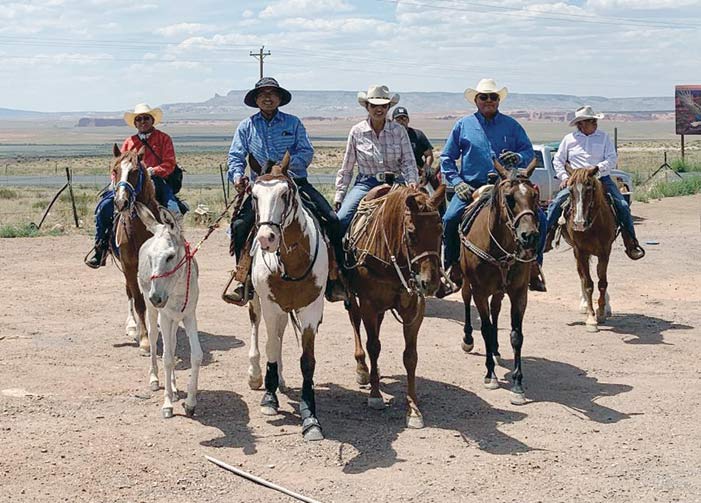 CHINLE
Why would a cutting-edge, 21st Century university use a thousand-year-old transportation method to celebrate its 40th anniversary? Well, because this is Navajo Technical University, and although it offers its students degrees in state-of-the-art technology, it is also firmly rooted in the culture and history of the Navajo Nation.
At least, that's the argument Arlena "Bo" Benallie was prepared to make to University President Elmer Guy when she got the idea of a horseback trail ride from the Chinle campus, which she directs, to the main campus in Crownpoint this summer. She didn't need it. Guy was in the saddle from the get-go. In fact, he will join the riders in Standing Rock, New Mexico, for the final leg of the journey.
According to Benallie, NTU has a lot to celebrate this year besides its 40th anniversary. The new Chinle campus, on the south end of town on the hospital road, is taking shape. Its recent "Maker Fair" was a smashing success and it keeps adding degree programs. In addition to being a fun bonding experience, Benallie hopes the ride will call attention to the higher education opportunities on the reservation, the cultural teachings about horses and the healthy aspects of being outdoors in the heart of beautiful Diné Bikéyah.
Six riders started out from the new Chinle campus Monday morning and "we hope that people from different areas will come to join us as we move along," Benallie said Monday during a regrouping stop at the Piñon turnoff. Horsemen are welcome to join for all or part of the ride. People who prefer moving on their own two legs can join the caravan for a series of fun runs along the way. And if you don't like moving much at all, crash their nightly campfire for some good ol' Navajo stories.
Among the six starters is former vice presidential candidate Buu Nygren, accompanied by his horse Paint and pet donkey Kelly. "I just want to show my support for higher education," said Nygren, who holds an MBA and is working on a doctorate. Plus Kelly needed an outing. Nygren is currently director of business development at the Navajo Engineering and Construction Authority. Most of the other riders were affiliated with the university, or, in the case of Tyler Benallie, Benallie's nephew.
The riders camped at the Nazlini turnoff Monday night and planned to proceed south to Burnside Junction, then east to Window Rock before crossing into New Mexico and turning north at Yah-Ta-Hey.
On Aug. 3, they hope to head north on Highway 491 to Navajo Route 9, where they will turn east and stop at Coyote Canyon and Standing Rock before reaching Crownpoint on Aug. 6. Fun runs were held in Chinle and Ganado, with one scheduled in Window Rock today (Aug. 1), and in Crownpoint on Aug. 6. Each event will include a T-shirt and promotional items will be given to each participant on a first come, first served basis.
NTU admissions tables will be on site for anyone interested in enrolling at NTU and advisors and financial aid staff will be on hand to assist with registration.
Information: Bo Benallie at abenallie@navajotech.edu or 928-674-5764.
---