Tuba City senior learning, ready for welding school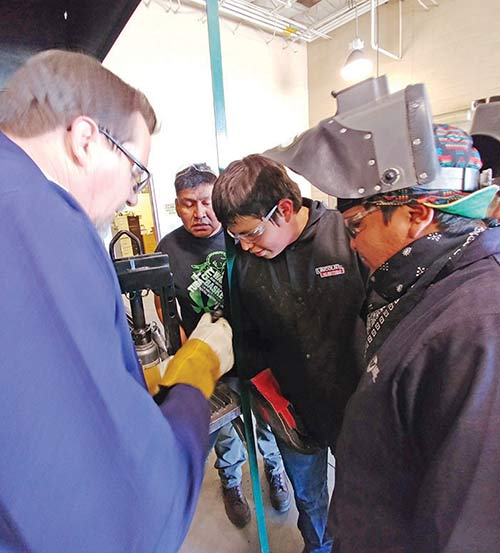 TUBA CITY
Samthony Parrish, a senior at Tuba City High School, has a career path as a welder ahead of him and a family behind him.
He knew he wanted to be a welder at age 15, and he took another step in that direction Friday when he tested for welding certification at an event organized by the Northeast Arizona Technological Institute of Vocational Education, a Joint Technological Education Districts in Arizona.
The NATIVE certification boot camp at Tuba City High School offered three tiers for welding two pieces of steel into one. Each student took the tests that had 2G, 3G, or 4G certifications.
Parrish passed the 3G certification and was encouraged by his welding teacher, Ryan Goldtooth, to the third tier of testing.
"Mr. Goldtooth wanted me to try for the 4G," Parrish said.
Parrish went for it, pushing his skills, which he said he intends to do as he moves forward in his career. To make the 4G weld, he had to weld with the metal suspended above him.
The first welding bead that a welder lays into the groove is called a root.
"You have to have a good root," Parrish said.
The root could have fallen out at that angle.
"When you're welding up, the gravity is pulling down, so it just falls out," he said.
His root didn't fall and had limited "porosity" to it, meaning not many pores or bubbles caused by gas or air inside the weld.
"It came out pretty good," he said.
But he had what welders call a "destructive bend test" to face after that. In preparation he had to remove the backing bar, cut the steel into sections, and grind it down into a one-and-a-half-inch piece called a coupon.
Judges would bend the coupon using a machine. If it cracked rather than bending, the student failed the test.
"My plate cracked on the bend test," Parrish said.
---