Youth give back by coordinating Nee'niji Youth Day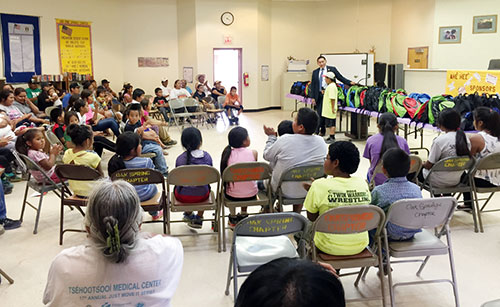 OAKSPRINGS, Ariz
What do you get when you let students plan something on their own? A whole lot of success.
That was evident as summer youth employees from Oak/Pine Springs Chapter House, with the help of chapter employees, managed to coordinate a youth day.
In attendance were a senator, a chapter president, Miss Navajo and plenty of Diné youth participants.
The 2015 Nee'niji was held on Friday July 24, and the kids in attendance got tolearn about healthy living and life skills through team-building exercises and from speakers and presenters.
"This day is committed totally to the youth today," said Ray Berchman,president of Oak Springs Chapter.
With around 70 kids present, the chapter was filled to near capacity as kids from all over the community gathered for the activities and speakers during the festivities.
Berchman said this is the second  that his chapter is hosting this youthday and t his was all planned by the student workers who are employed from his chapter during the summer.
---