Guest Column: Former Bennett Freeze is a Top Priority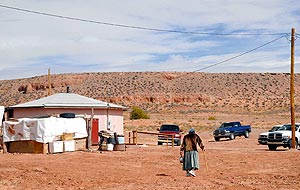 By LoRenzo Bates
Navajo Nation Council Speaker
After a compelling and heartfelt report to the Naabik'iyát'' Committee on July 16, 2015 by Don Yellowman, President of the Forgotten People Community Development Corporation, my Council colleagues and I entered into further discussion regarding the many needs of the Former Bennett Freeze communities.
With overwhelming support from Council members, a directive was issued to have the Naabik'iyát'' Committee and the Office of the President and Vice President to hold a Naabik'iyát'' Committee meeting in Tuba City, which occurred on September 24 at Greyhills Academy Auditorium to address the Former Bennett Freeze Area.
The intent of the meeting was to share with the people impacted by the Bennett Freeze that the Three Branches of government made the Rehabilitation a priority within the "One Nation, One Voice" agreement and to develop direction based on previous studies and recommendations. The Forgotten People CDC was instrumental in scheduling the meeting with the Office of the Speaker and the Navajo-Hopi Land Commission Office.
Unfortunately, we were not able to afford all 300-plus people in attendance time to speak. It was fortunate however that Mr. Yellowman during his presentation afforded several people an opportunity to speak about their personal hardships and struggles.
The result of the meeting was a listing of 38 recommendations issued by Council members and members of the Forgotten People.
It should be noted that the meeting at Greyhills Academy was the beginning of many future meetings to develop a long-term "Regional" action plan that incorporates Chapter Plans and other proposed plans.
It is the goal of the Council to coordinate and collaborate amongst each other to identify all plans and resources as well as to identify and address all obstacles and barriers that would hinder a Regional Long Range Plan of Action.
On behalf of the Council, we recognize that many studies and assessments have already been conducted and finalized and we recognize that the people impacted want the government to produce tangible results that benefits their communities — the 23rd Navajo Nation Council shares this same sentiment.
With the assistance of the Navajo-Hopi Land Commission and the Office of the President, we look to move forward on rehabilitating the communities that are impacted by the Bennett Freeze.
---