Reporter's notebook: Love trumps rivalry as players don Aztec colors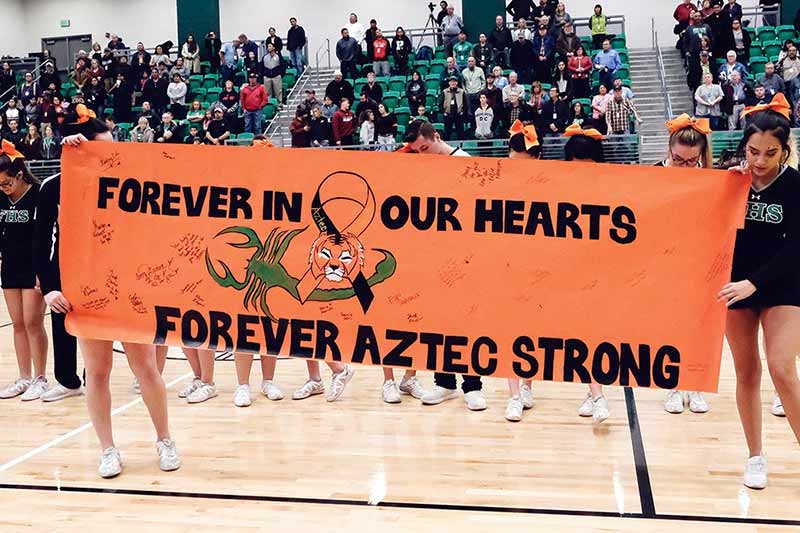 FARMINGTON
I did not know Casey Jordan Marquez or Francisco Isaiah "Paco" Fernandez, but after this last week, I wish I had.
The two were student-athletes who went to school at Aztec High School and lost their young lives in a school shooting last Thursday. Their lives were cut short, but thanks to their communities, friends, family, and those in the Four Corners area and beyond, they won't soon be forgotten.
The two were more than an aspiring football player and captain of the cheer squad. They were two individuals who made an impact with their infectious smiles and kind hearts.
It took me some time to adjust to the senseless act of violence that occurred last week, and even moreso when I learned the stories of Marquez and Fernandez. The day the tragedy occurred I was set to start my work day by covering the Marv Sanders Invitational at Farmington High School. After giving coaches some time to figure out what would come of the tournament after the shooting, I reached out and learned that the show would go on.
I went to work with a heavy heart that day, but as each day passed, the weight of sorrow and disappointment slowly started to lift. With each day that came and went since last Thursday, I saw what the lives of Marquez and Fernandez did. The two student-athletes brought a community together in a way many never imagined.
Kirtland Central played Miyamura in the first game of the tournament.
In an effort to pay their respects, Kirtland Central wore orange socks and black and orange headbands — Aztec High colors.
The trend continued throughout the weekend. Moments of silence took place before the evening games of the tournament and fans showed up wearing orange.
Farmington cheerleaders wore orange and black and created a sign that read "Forever in Our Hearts – Forever Aztec Strong," which they showcased during the tournament.
The Shiprock boys' basketball team wrapped orange tape around their ankles and the coaching staff work orange and black t-shirts that read "Aztec Tiger Strong." The Piedra Vista team wore a small strip of orange tape on their jerseys. Athletic trainers, team managers, scoreboard keepers, and many fans wore anything they could find in their closets that showed a hint of orange.
The support went beyond the Four Corners. Rio Rancho High School produced a short video in support of Aztec. Las Cruces, Alamogordo, the University of New Mexico, Fort Lewis College, Northern New Mexico College, Bernalillo High School, Melrose High School and dozens more turned to social media to show their support for the community.
Through the entire weekend, sports came second and people came first. I got to know the young man and young woman through those who did know them. Marquez made friends everywhere she went and Fernandez loved his family.
I didn't have the pleasure of meeting Marquez and Fernandez, but if I had the opportunity, I would tell them that they are loved, cherished, respected, and truly adored by many.
That they brought together a community that goes beyond Tiger Country. I would tell them that they proved that love really does trump hate. I would tell them that their sacrifices have left those they left behind Aztec Strong.
---