Grayeyes wins county seat in historic election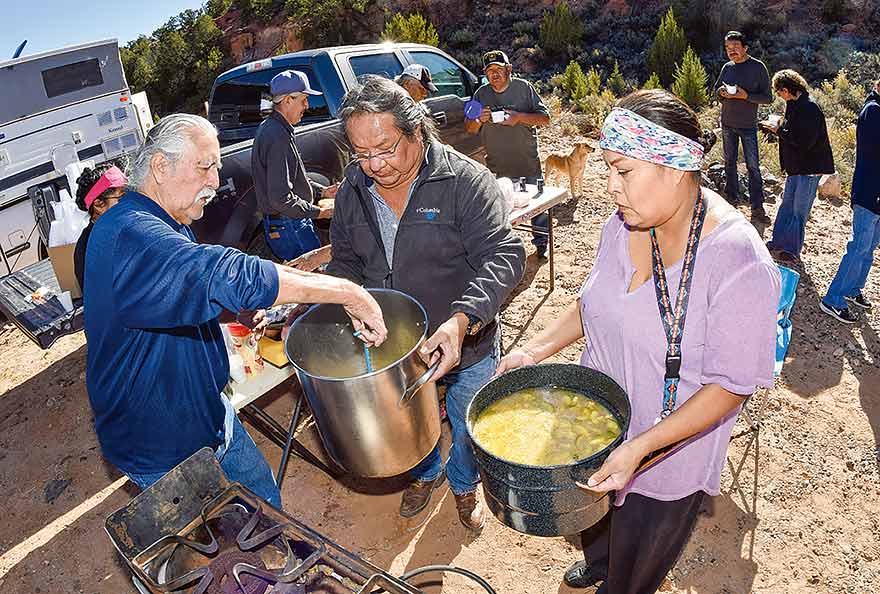 By Krista Allen
Special to the Times
UTAH and WESTERN NAVAJO
Willie Grayeyes sat on the tailgate of his truck on Election Day in Naatsis'áán.
He made k'é as he shook the hands of his friends and relatives who voted at the polls inside the chapter house nearby. Unlike other candidates who visit several chapters during elections, it was obvious he was not going anywhere.
"It's nice and warm," Grayeyes said as he shook the hands of Boyd Eltsosie and Paul Smallcanyon, both who voted before they enjoyed a hot cup of coffee, a bowl of mutton stew and frybread at Grayeyes's campaign booth.
"Thank you!" shouted Grayeyes as he waved off a person who voted.
Grayeyes would not say whom he voted for in the Navajo elections, but he did say he "went right in the middle."
Grayeyes, an activist, decided to run for San Juan County commissioner for District 2 earlier this year, but he was kicked off the ballot in May after the county clerk determined he did not actually live in Utah. Grayeyes disagreed and sued the county, his political opponents, and Utah Lt. Gov. Spencer J. Cox, demanding to be put back on the ballot as a candidate.
A federal judge ruled in early August that San Juan County officials improperly invalidated Grayeyes' candidacy, thus restoring his voting rights and ordered his name back onto the ballot.
"Do you feel confident?" Eltsosie asked Grayeyes.
"Oh, yeah," said Grayeyes, who on Tuesday prayed and asked the Creator for strength and no tension at 4 a.m. "Aoo', aoo'."
It turned out Grayeyes had reason to feel confident. In a historic election preceded by a forced redistricting at the hands of a federal judge, he defeated Republican Kelly Laws 817 to 648 to become the second Navajo Democrat on the three-member San Juan County Commission.
For the first time, Navajos, who hold a slight majority in the county, will see that reflected in their governing bodies.
The San Juan County Board of Education also emerged from the election with a Native majority. The new board will include Nelson Yellowman, Lucille Cody, Steven C. Black, Merri B. Shumway and Lori Maughan.
"I think I have a good support," Grayeyes said in an interview. "(They're) very positive about my candidacy."
Cox's office had a person here to observe and ensure there were no election problems. Cox announced on Oct. 2 that the Utah State Elections Office would have someone on hand as the election came under scrutiny from federal courts, the Navajo Nation, and voting rights activists across the country.
A federal judge found the county had illegally gerrymandered county commission and school board boundaries to favor white candidates. Then the boundaries were re-drawn, and Cox ordered new elections.
The new boundaries were meant to realign political influence to the county's Native population and set up a historic special election.
"I didn't know how it was until debates came that (elections) were not set up right," said Eltsosie, who was born and raised here. "Now, it's where it's supposed to be, and I hope it continues to go in the right direction for us in this area.
"We're in three counties in this (Naatsis'áán) area," he said. "We're in three states, too. And that complicates a lot of things, and it forces us to work harder with different entities."
He continued, "We should be using that to our advantage, but sometimes, the way politics is in Window Rock, it disrupts how we want to continue progressing with the future."
The communities of Rainbow City and Naatsis'áán are the most neglected and isolated communities in the Navajo Nation, according to Grayeyes.
"That's why we don't have immediate service from Navajo Tribal Utility Authority, Indian Health Service, police protection, social services, and behavioral health – none of those," Grayeyes said.
San Juan County strongly opposes President Donald Trump's executive order to shrink Bears Ears National Monument (Shash Jaa'). With Diné Democrats in control of the commission, that is bound to change.
Both Grayeyes and the other Navajo on the commission, Kenneth Maryboy (who ran unopposed), have actively championed Bears Ears.
"If Grayeyes wins District 2, it would be great," said James Adakai, president of Oljato Chapter and a Nez-Lizer supporter, during a voting event at the Welcome Center in Oljato-Tsébii'ndzisgaii. "We will make history in San Juan County."
"We're all out of focus – too much elections," Boyd added.
Meanwhile at Shonto Chapter, John and Mabel Nez, parents of president-elect Jonathan Nez, waited for their son's arrival. John Nez listened to KTNN inside his white pickup truck as Mabel sat on a camping chair nearby and shook the hands of those wanting to know Jonathan's whereabouts.
The only campaign booth besides Council Delegate Herman Daniels's was the Nez-Lizer, where Jonathan's friends and relatives cooked and served those who voted.
"We're supporting Jonathan because he's for the future," said Rena Atene, who helped butcher sheep for the voting event in Oljato-Tsébii'ndzisgaii. "He's going to help our people and he's been our Council delegate in the NOST (Naatsis'áán/Oljato-Tsébii'ndzisgaii/Shonto/Ts'ahbiikin) area.
"We really support him, she said. "There's a lot of things that he does for the youth, so that they can be more active."
Atene believes Jonathan Nez accomplished his work as the Nation's vice president, saying he "really helped" the NOST area.
"We voted Nez for Council, now we voted him for president," Adakai said. "As a delegate, he attained the seed money of $500,000 when we requested funds for a new chapter. Now, he's at the top post."
As the sun began to fade at Bodaway-Gap, LeChee, and Tonalea chapters, talk was about the top contenders in the running for District 1, Paul Begay and Tauchoney Slim Jr., and who would best represent their communities.
"I voted for Paul Begay," said Sally Whiterock from Tonalea-Red Lake. "(Some of us) here in Tonalea supported him since the primaries. We all wanted him to win (because) we have a lot of problems – such as former Bennett Freeze and Navajo Partitioned Land – and we need support. (Slim) isn't working with us."
Begay ultimately bested Slim 1,491 to 1,092.
As the polls closed in Tónaneesdizí, last-minute voters waited in a long line as ballots ran out, according to chapter officials. Outside the chapter house, Council Delegate Otto Tso began packing up his campaign booth.
"We had a whole different array of people here (on Election Day)," said Tso, the only candidate for Council in the running for his chapter in District 3. "I talked with them, and that's all it takes, talking to the people (to win any seat). Other than that, I have plenty of work to do for Tuba City.
---