History surfacing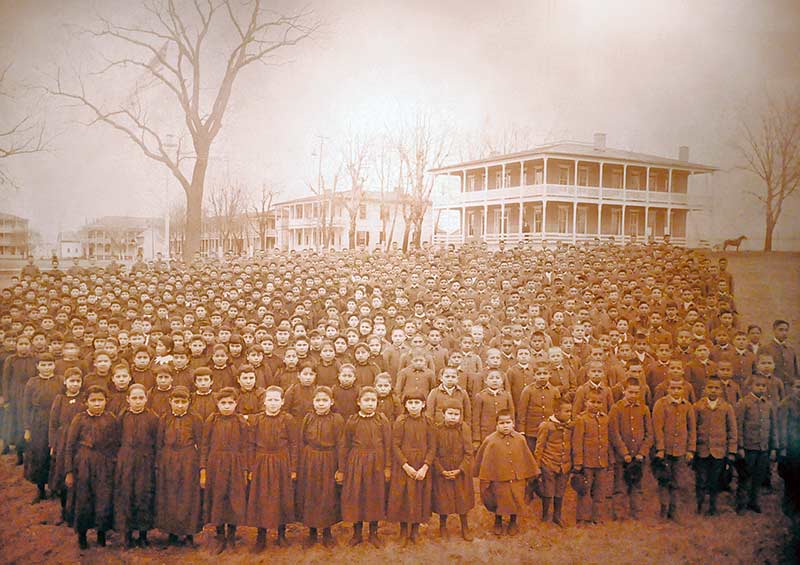 Newly digitized records reveal the Carlisle experience
CARLISLE, Pa.
A blanket of fragrant, fading cherry blossoms covers the ground at Carlisle Barracks, a place haunted by history yet still touted as the "most strategic 500 acres in the Army."
Here, in October 1879, a troop of 82 Indian children walked from the nearby train station to the barracks, where they would attend the recently opened Carlisle Indian Industrial School. Accompanying them on their midnight trek through the streets were hundreds of townspeople who gathered to gawk at the "savages" selected to attend the flagship Indian boarding school.
The children traveled first by steamboat then by train from the Rosebud and Pine Ridge reservations in South Dakota. They arrived in traditional attire, adorned in jewelry and with their hair long and wild. Within days, their traditional dress was replaced with pressed uniforms, their hair shorn and perfectly parted, their jewelry removed.
It was all part of Captain Richard Henry Pratt's plan to "kill the Indian and save the man" – a controversial solution to a problem playing out in Indian territory across the country.

A Difficult History
Between 1879 and 1918, about 10,600 Indian students traveled from their homes to the Carlisle Indian Industrial School in a journey that was at once physical, social and emotional. This first boarding school, part of an experiment in civilizing the Indians, was the model for dozens of other schools, including those still in operation today.
But the experiment failed, said Barbara Landis, archives and library specialist at the Cumberland County Historical Society. Landis, a biographer for the Carlisle Indian School, conducts tours at the site – now part of the U.S. Army Training and Doctrine Command and the site of the U.S. Army War College.
"Pratte's dream was that the Indians would get swallowed up by the dominant culture and not return to their reservations and cultures," Landis said. "But we can't call this experiment a success because many kids did go back to the reservations. They went back and they were conflicted."
It's the same conflict that persists today among American Indians who walk in two worlds.
It exists in parents who struggle to decide whether to teach their Native languages to their children. It is evident in youth who leave home in search of better opportunities. And it surfaces every day in boarding schools across the country that still hold true to doctrines established at Carlisle.
Much of the school campus still exists, though it's buried under layers of history and modern use. Signs mark locations like administrative buildings, the bandstand, dormitories and the gymnasium where Jim Thorpe worked out. A small cemetery honors the memories of 190 students who died at Carlisle.
But even with these concrete reminders of what happened at Carlisle, little remains of the people who triumphed and suffered here.
"What we had was a sanitized history of Carlisle for many years, a white-washed version of history," Landis said. "For a long time people wouldn't talk about it."
What does remain are the stories, Landis said: the rationale of the U.S. government, military officers and Pratt himself, along with accounts from students, parents and tribes who made the decision to attend Carlisle. Those stories can be found in official records, personal journals or oral histories, Landis said, and they're starting to come to the surface.
The Cumberland County Historical Society and nearby Dickinson College are working to digitize all the records, lending a voice to this controversial chapter of U.S and Native history and giving those who experienced Carlisle an unprecedented chance to be heard.
Efforts also are under way to preserve more of the school's buildings and open a museum on the campus to allow researchers access to records and descendants a place to reflect.
"People are talking now," Landis said. "The stories are angry or excited. They are about opportunities or feeling exploited. But they are open."
---