'Little Sister' to retire soon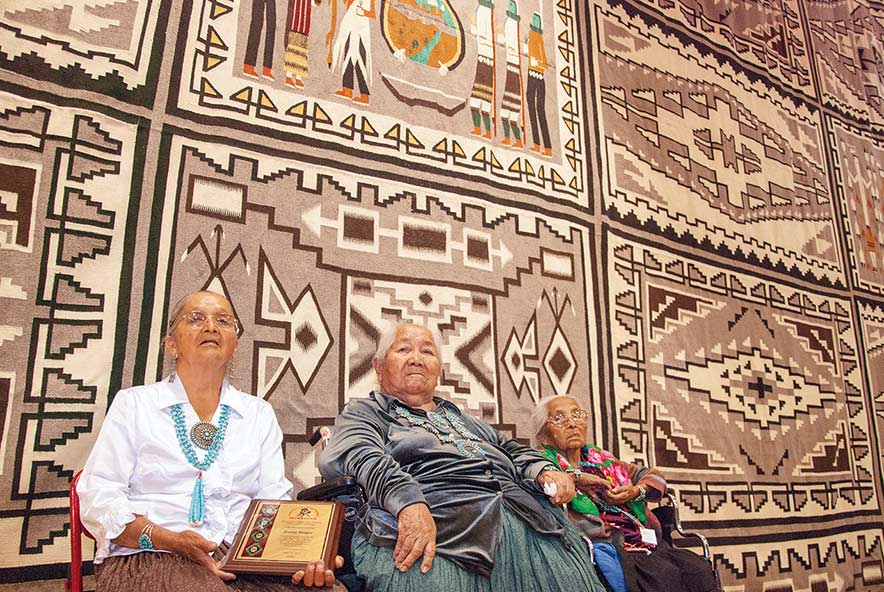 By Geri Hongeva
Special to the Times
FLAGSTAFF
The Little Sister Rug served as a backdrop during the Navajo Nation Inauguration at the Bee Hółdzil Fighting Scouts Events Center in Fort Defiance Jan. 10.
It has been a part of high school graduations and other inaugurations and even went on the auction block in New York City.
It may be the last time Chilchinbeto's Little Sister Rug will adorn such events in the Navajo Nation.
Eugene Badonie, the Chilchinbeto Chapter manager, and his team have expressed that this might be the last year the Little Sister Rug will be traveling to make public appearances before it is permanently retired.
It has been a long-time goal to build a museum for the two largest rugs, one being the world-famous Big Sister Rug, a 24'5" by 37'10" rug weighing 900 pounds. The Big Sister, Ádí, retired in 2015 and is housed at the Navajo Nation Museum in Window Rock, and it debuted at the tribal capital in September 1979.
The Little Sister Rug measures 26-by-28 and weighs around 250 pounds.
"There's no true weight," Badonie said of the Little Sister.
The 24th Navajo Nation Council in August 2022 approved $7.65 million from the Sih Hásin Fund to construct a multi-purpose building that would house a museum gallery, gift shop, meeting spaces, and display of the two rugs.
Adeezhí
The Little Sister, Adeezhí rug was initially woven to be sold for a fundraiser, hoping to fund the Chilchinbeto Clinic in the 1980s. It never sold.
In 1983, the Little Sister Rug was woven in Chilchinbeto. It took 10 weavers to bring the rug to life. The weavers are Betty Big, Isabelle Cowboy, Bessie Curley, Anna Gray, Agnes Laughter, Anes Nez (deceased), Gloria Mailman (deceased), Charlotte Smith, Marion Willie Yazzie, Rose Mae Young (deceased), and their five mentors, Helen Charley, Susie Young, Lillie Yazzie, Helen Begay, Bessie Redmustache – all of whom worked on the Big Sister Rug.
Eleven women worked on the Big Sister Rug, and only two weavers – Helen Charley and Leta Keith – are still alive. Badonie said the chapter's working on a second documentary about Charley's and Keith's work on the rugs.
Navajo rug weavers are globally known for their unique designs and for creating beautiful rug dresses. It is very different from any other tribe. Collectors attend rug auctions and art shows, hoping to find a Navajo rug to add to their décor.
Navajo women learn how to weave at a young age. They begin with small rugs and then advance to larger sizes and more complex designs. Navajo women are considered the center of their home and have an important role in teaching young girls to be skilled in their duties at home.
From sheep to rug
Diné families with livestock take care of their sheep every day. The livelihood of having sheep is an integral part of the Diné culture – from food and resources to security.
Young Diné are taught to care for and value livestock. Between spring and summer, sheep shearing begins; when the wool is gathered, the work starts by carding and spinning the wool until it is ready for weaving. Navajo women and young girls do this task together. Once the wool is prepared for weaving, multiple looms are set up.
Experienced weavers begin mentoring the girls, and rugs are made for special occasions to wear or sell.
In the early 1920s, the trading posts were in the market of buying and selling Navajo rugs. There were plentiful weavers, and many young girls were weaving alongside the women of their families. Every Navajo rug is unique because each weaver has creativity incorporated into the design. But the art of rug weaving is disappearing.
The idea to create the world's largest Navajo rug came from former Council Delegate Charlie C. Billy when each chapter was given funds to enhance the business economy and bring recognition to their community.
Billy's initial idea was to find the largest turquoise nugget to showcase, but it was a challenge to find such a nugget. He visited turquoise mines in Morenci, Kingman, Arizona, and Battle Mountain, Nevada.
Billy served as a councilman from 1971 to 1986 and 1995 to 2001.
One day after visiting a mine, he was sharing with his wife how he used to help his grandmother and the weavers in his family by helping set up and tighten up their looms. This was when it occurred to him that this community would weave a large Navajo rug instead of a turquoise nugget.
According to the Chilchinbeto Chapter website, the small community had many discussions, and the decision to begin weaving the first rug was made in hopes it would provide an economic opportunity for the area.
Billy was orphaned when he was an infant. He was raised by his grandmother, aunt, and three sisters. He gained his knowledge in weaving surrounded by the women who raised him.
Billy remembers helping them by carding the wool and using the spindle. He then went to the chapter officials about his idea of weaving a large rug. At the time, the chapter president was James Laughter, and the chapter vice president was Billy Charley. The chapter officials supported his idea, and he began to develop a team of weavers and mentors.
The Little Sister Rug's next appearance is at the Arizona Indian Festival during the Scottsdale Western Week, Feb. 4 -5, at the Scottsdale Civic Plaza. The festival is free to the public and family-oriented, with traditional songs and dances from Arizona's 22 Native American tribes.
"We are trying to get the rug to be a part of the upcoming Super Bowl in Glendale, the Gathering of Nations in Albuquerque, and the Santa Fe Indian Market before placing it in the museum permanently," Badonie said. "We like to share our achievement with the people and try to make it available for people to come see it.
"A lot of people don't know about this rug," he added. "Chilchinbeto community is very proud. Contact us directly for Little Sister Rug to attend your event."
---