Officials investigate killing of 11 horses in Chooshgai Mountains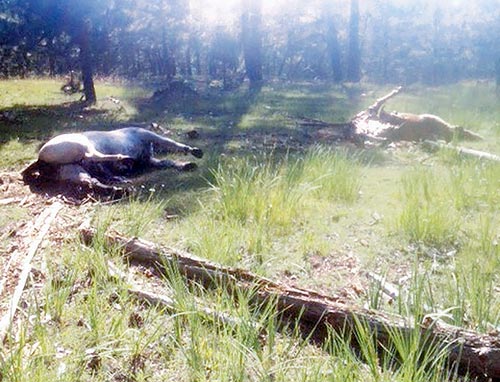 MINERAL PLACE, N.M.
While walking toward three dead horses in the pines of the Chooshgai Mountains Wednesday morning, Derry Lewis shouted in Navajo to the black bear to leave the scene of guts it was eating.
Lewis, who is of the Naashashí (Tewi Bear) clan, told the fat bear, "Akóh neewijhjii shitsoi," or "Please leave the area, my grandson," for passage into the forest, where more dead horses lay rotten.
The black bear, which had then briefly turned around to face Lewis, a grazing officer for Tohaali/Bis Dah Litso Chapter, and this reporter, descended into a ravine of Aspens.
"In tradition, we were raised by those bears," Lewis said about his Naashashí people, before refocusing his efforts on why he was back in the mountains – to investigate the mysterious killings of the 11 or so horses – both feral and branded.
Not far from these horses that the black bear was eating, crows fluttered in the sky over the other eight horses that were scattered within a quarter mile from each other.
It's been four days since they were shot with what Lewis guesses is an automatic rifle, as the scent of fresh mountain air changed to a stench of death the closer one got to the carcasses.
---