Protest held over Winslow officer's fatal shooting of Loreal Tsingine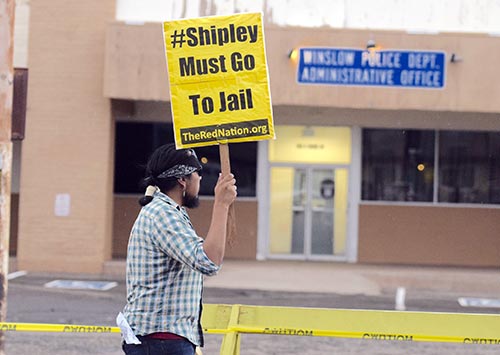 WINSLOW
Like he did in the 1960s fighting for the rights of Native people, Shiprock Chapter President Duane "Chili" Yazzie walked in protest over the Easter Sunday shooting that led to death of Loreal Tsingine during confrontation with Winslow police officer Austin Shipley.
Yazzie said the similarities between what he fought for then and now were not too different.
"We've seen this too often, Yazzie said. "We've experienced this in Farmington and, more recently, in Gallup."
"We supposedly live in America that professes equality and justice for all," Yazzie continued. "But we have a situation like this with Loreal (Tsingine) and the government and the powers that say that he didn't do anything wrong."
Yazzie walked near the back as protestors, organized by the Red Nation, carried picket signs that read Justice for Loreal" and "Shipley must go to jail."
The protest walk began from the Winslow City Hall and ended at the police department parking lot.
The protest was held in response to Shipley's body cam that was made public on Wednesday, as well as Maricopa County Attorney Bill Montgomery's decision to not charge the Winslow police officer for fatally shooting Tsingine on March 27 of this year.
In the video, Shipley is seen approaching Tsingine and attempting to detain her after exiting his police unit, during which a struggle between them ensued.
The video continued to show Tsingine resisting Shipley's action to subdue her as they appeared to go in a circle during their confrontation. Shipley then grabbed her by the back of her sweat jacket and threw her to the ground.
Tsingine manages to free herself from Shipley and gets back to her feet. At this time a pair scissors, held in her left hand, appear in the video.
At this time, Shipley pushes her to the ground and quickly steps back as Tsingine backs to get feet and begins walking toward him. At this time in the video, another Winslow police officer appears, not too far behind Tsingine, who continues to walk toward Shipley. Shipley continues to walk backwards when he suddenly pulls his pistol and aims it at Tsingine. The other police officer appears to not attempt to stop Tsingine's advance.
Shipley then fires his weapon and strikes Tsingine five times. She falls on the sidewalk and manages to sit up for a moment before falling back down. Shipley continues to aim his weapon at her, gradually disappears from the video when it appears Tsingine has stopped moving.
Around this time, a heavy breathing Shipley says to the other officer, "She came at me with those scissors."
For Yazzie, the fatal shooting of a Native woman was something he said he's seen too many times since he began his advocacy for Native rights.
"It's the same situation. It's really unfortunate that we have to demand justice when the evidence is so clear that there was a wrongdoing," he said. "There's got to be accountability. That's what we demand here."
---