Video shows last minutes of Navajo woman's life after police shooting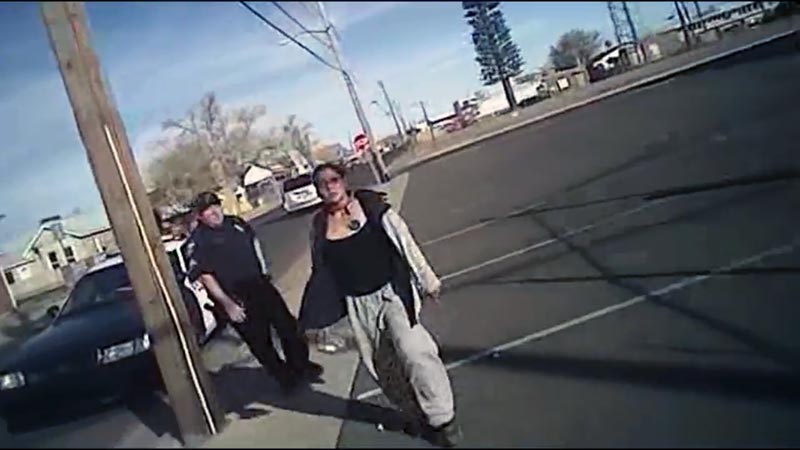 WINSLOW
Winslow Police Officer Austin Shipley gets out of his patrol unit and attempts to arrest Loreal Tsingine. In a matter of seconds the 27-year-old Navajo woman is lying on the sidewalk bleeding — taking her last breath after being shot five times by Shipley.
That fateful Easter Sunday was captured on Shipley's body cam and made available to the public Wednesday, nearly a week after Maricopa County Attorney Bill Montgomery determined through an investigation that Shipley would not be charged in the killing of Tsingine.
The video obtained by the Navajo Times shows Shipley get out of his patrol unit, approach Tsingine, and try to arrest her. She gets loose from his grasp; Shipley then grabs her again and throws her to the ground.
Getting up, Tsingine is seen to have been holding a scissors in her right hand, just before Shipley pushes her away from him.
As Tsingine gets up again, objects, which in the video look to be medicine bottles, fall out of her pocket. A second officer is seen to be a few feet behind her and following her as she walks toward Shipley with scissors still in her hand, Shipley begins to fire shots at her, and she turns her back causing her to be shot in both the front and back. As Shipley is shooting, the second cop is still a few steps behind Tsingine but immediately jumps out of the way.
"She came at me with those scissors," Shipley says to the second officer as Tsingine is now on her back dead from the wounds. Shipley's breathing is heavier and faster and he makes a heaving sound.
Ambulance and medics come to the scene quickly and start to try to revive Tsingine while Shipley looks on. Other law enforcement personnel get to the scene minutes later, and one individual asks Shipley how he is doing after the fatal interaction.
"I did what I had to do," replies Shipley.