School bus in head-on collision on Highway 491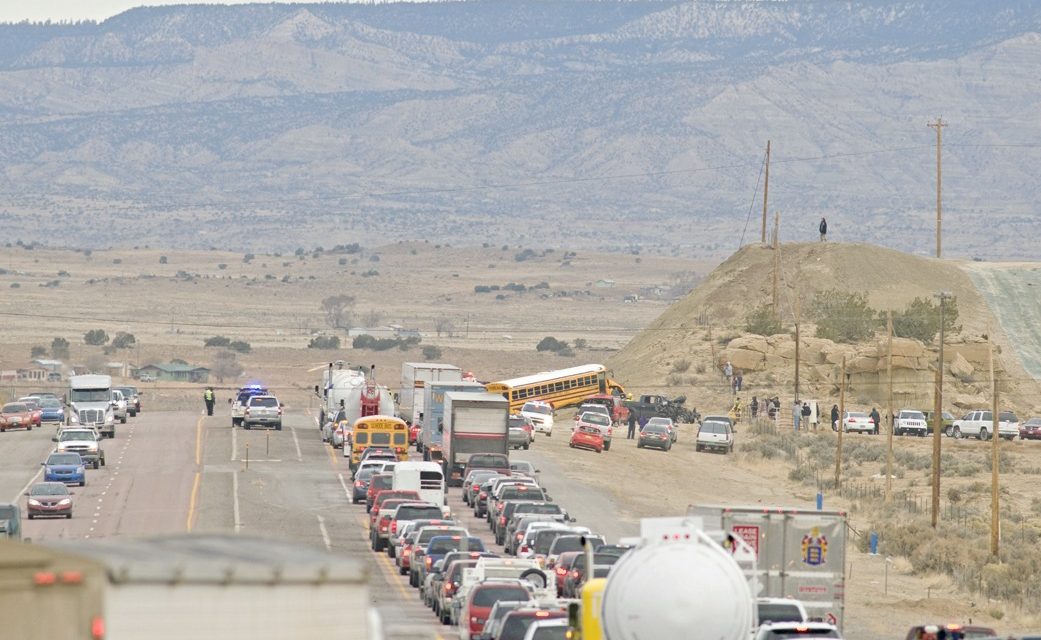 ABOVE: Traffic, driving north on State Highway 491, comes to a stop as emergency personnel and police work on freeing a woman trapped in her vehicle on Friday morning after she collided with a school bus in Tohlakai, N.M. According to Navajo police officer Chasity Billy, the driver of the bus saw the pickup truck coming towards her when the collision occurred. The driver of the truck was flown off to the hospital for her injuries. The accident remains under investigation. (Times photo – Donovan Quintero)
---
By Bill Donovan and Donovan Quintero
TOHLAKAI, N.M.
A collision early Friday morning between a Gallup-McKinley County School District bus and a pickup truck resulted in one woman being airlifted to the hospital after being trapped in her vehicle.
Local community member Bobby Martin who was one of the first to arrive at the accident said he checked on both drivers.
"My wife called and said there was a bus accident," he said. "I couldn't see the bus that picked my older daughters. I thought it was their bus. I came around the corner and saw smoke coming out from the engine of the (pickup) truck.
"I got out of my vehicle, went and checked on the driver and the bus driver to make sure they were both ok. The bus driver was talking with no visible injuries. The driver of the truck was trapped from the engine, which had come up and locked her legs in. She was talking, cold and seemed she was in a confused state of mind."
Martin said the bus was running late and said it is usually further down the Johnson Road waiting to pick up the elementary school children.
According to officer Chasity Billy with the Crownpoint Police District, the bus driver, who was driving southbound making a turn onto Johnson Road, said she noticed the pickup truck coming towards her when the collision occurred.
Both vehicles ended up on the east side of the highway. The bus sustained damaged to the passenger side and the pickup truck sustained heavy damage to its front end. Northbound traffic backed up when police closed it off at the scene of the accident.
Frank Chiapetti, superintendent of the school district, said no students were inside the bus when the accident occurred just before 7 a.m. at Tohlaikai about 10 miles north of Gallup.
The woman in the pickup, whose name has not been released, is a teacher at Twin Lakes Elementary, said Chiapetti. The extent of her injuries is not known.
The bus driver, whose name has also not been released, was "just shook up" in the accident, Chiapetti said.
Details of what caused the accident are still under investigation.