Southern Tsídiito'í families hit hard by flood damage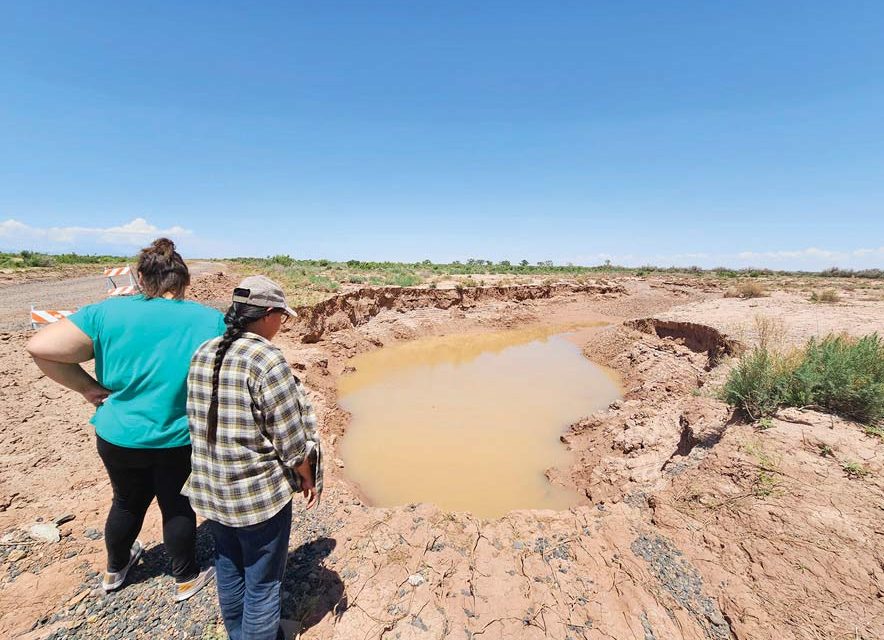 WINSLOW
In early March, the small cluster of homes belonging to the Long family was hit by the worst flooding it had seen.
The family lives 10 miles outside Winslow, just an acre from the N71 Bridge across the Little Colorado River. Over the years, silt and sediment built up under the bridge until the underway had become narrow, allowing it to be blocked by debris.
When a torrent of water gushes down its natural path and hits the bridge, it doesn't get through, so it'd back up and floods the surrounding plains.
Record flooding
With a little warning that month, the Longs raced to get their family members who use a wheelchair and toddlers out of danger.
An uncle was moving things from his home when he got swept away by the heavy water and broke his hip. He was evacuated by emergency personnel.
Five stray dogs the family feeds were washed away and never seen again.
Two sheep fell into the water and later died from hyperthermia.
A family residing further away was forced to put a cow down when it got stuck in the mud, and they could not get it out.
In some areas, the floodwater was deep enough to swim in. Still, the Long family tried its best not to contact it because it may have been contaminated with fecal bacteria as the outhouses were destroyed.
Nearly two months later, the land is finally drying, but the Long family's troubles are far from over.
A sinkhole had opened near the only house connected to the electrical grid, swallowing the family's van. Crevices were cut around the houses, creating fears of the homes sinking in. Water had entered the family matriarch's hogan and left mold, forcing her to sleep outside in a tent while her granddaughter Brittanny Taylor slept in a car. Nearby, her niece Ashley Parker-James cares for two toddlers and her mother, who uses a wheelchair.
The Long's greatest concerns are the rain clouds that hover on the horizon. Monsoon season is coming, and with the flood plain the family lives on, it has no protection and nowhere to go.
Read the full story in the May 18 edition of the Navajo Times.
---