Third golden eagle shot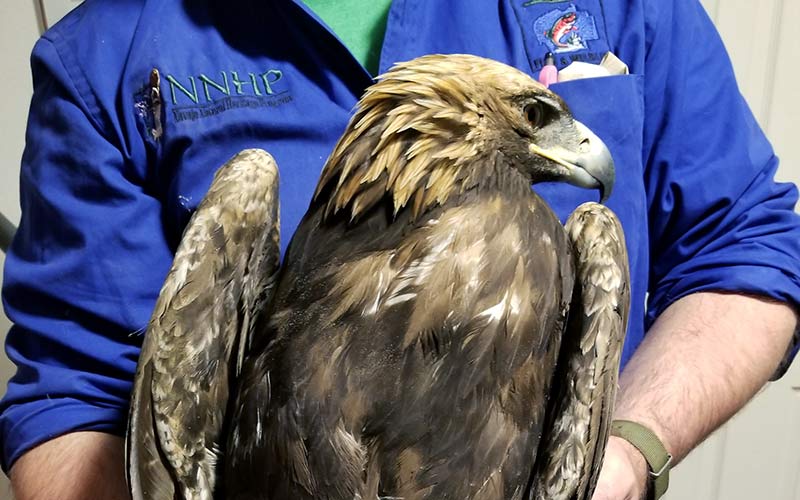 WINDOW ROCK
Another golden eagle was found, shot, with all of its tail feathers removed.
According to officials with the Navajo Nation Department of Fish & Wildlife, the eagle was found at the Navajo Products Agricultural Industry area on Friday. The severely injured eagle was still alive.
Manager of the Navajo Nation Zoo, David Mikesic, said the eagle, a juvenile female, was brought to zoo on Friday night, with serious wing injury. All of her tail feathers had been pulled, he added.
The eagle was bandaged and rehydrated before taken to the Petroglyph Animal Hospital in Albuquerque where it went under the care of Veterinarian Dr. Kariana Atkinson. Mikesic said Atkinson performed surgery on the bird on Sunday. He said he did not know if the bird survived the surgery.
Two birds were reported to have been shot by the U.S. Fish and Wildlife Service. The first golden eagle the USFWS reported shot occurred on March 13 in Area 7 of NAPI. That bird later died from its injuries. The second eagle was reported shot on March 21 in Area 1 of NAPI. Both eagles had their tail feathers removed.
The golden eagles and bald eagles are protected by the Bald and Golden Eagle Protection Act and the Migratory Bird Treaty Act. The Bald and Golden Eagle Protection Act carries a maximum penalty of one year in jail and $100,000 per individual, or $200,000 per organization for the first offense, while the Migratory Bird Treaty Act carries a maximum penalty that ranges from six months to a year in jail, and fines of up to $250,000 per individual, depending on whether an individual is convicted of a misdemeanor or a felony.
Mikesic said the $3,000 reward USFWS is offering still stands. In addition, he said Operation Game Thief for the Navajo Nation is also offering a "substantial" reward. Operation game thief can be reached at 928-221-9114. The USFWS can be contacted at 505-346-7828.
---