Times CEO placed on paid administrative leave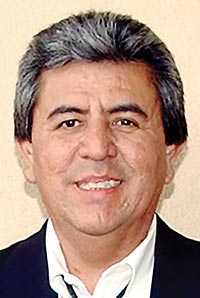 WINDOW ROCK
After a special Navajo Times board meeting on Wednesday, it was decided that Navajo Times Publishing Company Board of Directors will place the publisher and CEO, Tom Arviso Jr., on paid administrative leave pending an internal investigation.
Arviso was charged with aggravated DUI by the New Mexico State Police on Jan. 7 in Gallup.
"Members of the Navajo Times Publishing Company Board of Directors have expressed their serious concern over this incident and will be guided in their final decisions by the results of the internal inquiry," stated Paul DeMain, chairman of the board.
On Tuesday, Arviso visited with the staff of Navajo Times and extended his deepest apologies for his actions and said he took full responsibilities for his indiscretions.
When Arviso was pulled over, the officer, Calvin Brown, said he was traveling south on Second Street about 1:17 a.m. when he noticed the car in front of him was speeding up. He used his radar to determine that the vehicle was going 54 mph in an area where the limit was 25 mph.
He conducted a traffic stop and told the driver, Arviso, to go to the nearest parking lot. Instead, Arviso attempted to go into the parking lot but couldn't find the entrance so he continued driving south until he came to the Allsup's Convenience Store at the corner of Nizhoni Blvd. and South Second and parked there.
Brown said when he went up to the driver's side to talk to him, Arviso appeared disoriented and had bloodshot eyes. When he spoke, his speech was slurred. Brown said he could also smell the odor of intoxicating liquor coming from inside the vehicle.
Brown said he asked Arviso where he was coming from. Arviso's repose was Coal Street but when he asked where he was going, Brown said he couldn't understand Arviso's reply.
Because of that, Brown asked Arviso if he was willing to take field sobriety tests. Arviso agreed but failed the tests so he was placed under arrest.
Arviso's wife was in the car and had called a family member to pick up the vehicle and drive her home.
Arviso was taken to state police headquarters where he agreed to take a breath alcohol test in which he posted two samples of .23 and .22.
Arviso has been CEO and publisher of the Navajo Times since 1988.
---