Begaye/Nez: Sovereignty starts with the people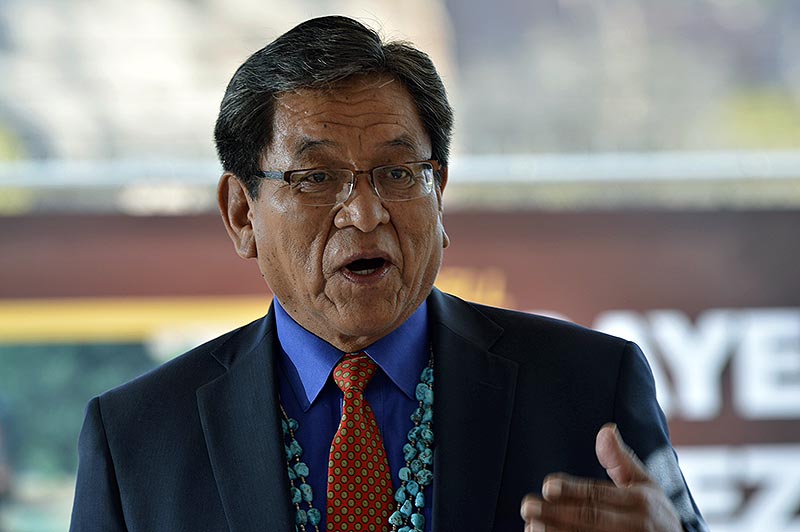 WINDOW ROCK
While the U.S. government formally recognizes the Navajo Nation's sovereignty via a 1986 court case that allowed it to tax, the incoming administration of Begaye-Nez says the tribe had it since time immemorial.
Sovereignty, or the authority of a state to govern itself, starts with language, self-governance, prayers, philosophies on life and more, according to Navajo Nation President-elect Russell Begaye.
"It's something that always has been and we will always be that," Begaye said on April 24, before adding, "Sovereignty is innate. It's who we are as people."
In regards to the Navajo Nation's annual Navajo Sovereignty Day, held April 27, Begaye said this day is a time to celebrate and honor how the Navajo people are a nation, and how they continue to endure since creation.
"It's based around the Navajo people and as long as the Navajo people are on the face of the earth, we will be sovereign," Begaye said.
And when it comes to business and economic opportunities in the Navajo Nation, Begaye said sustaining sovereignty — not protecting it — is vital to the identity of the Nation.
After all, the 1986 court case Kerr-McKee Corp. vs Navajo Tribe recognized the Nation as a sovereign nation existing within the borders of the U.S.
Since 1986, the tribe has collected well over $1 billion in revenue from possessory interest, business and gross receipts taxes.
Navajo Nation Vice President-Elect Jonathan Nez added that the Navajo Nation's court system — often considered competent and complex by scholars — is an example of tribal sovereignty at work.
Businesses seeking to invest on the Nation want to make sure that, in the event of a lawsuit, they will receive fair arbitration. The tribe's recent $60 million Key Bank loan to build public safety facilities is evidence that major financial institutions do trust the Navajo courts.
"If we are going to grow our nation, anyone that is starting a business here needs to be confident that we have a system in place that will be fair to them," Nez said, adding, "and as a nation we do have that."
Key to maintaining the tribe's sovereignty for this administration is also employing qualified Navajo people, especially in key governmental positions.
"It enhances our sovereignty," Begaye added. "We're not going to hire people who contributed to our campaign, but bring the best and brightest minds to the Navajo Nation."
Nez added that those who come on board under the Begaye-Nez administration will need to recognize that sovereignty exists at the local level.
"We have been saying local government and self-governance and need to continue speaking that lingo," Nez said, noting that lawmakers need to also recognize that.
Another aspect of sovereignty both leaders touched on is the tribe's ongoing government reform efforts, which, Begaye said, are crucial to keeping up with changing times.
"It's about expressing your sovereignty when you make those changes," Begaye noted. "It's healthy dialogue."
Begaye and Nez, along with members of the 22nd Navajo Nation Council, were tasked with the restructuring of the legislative branch when it decreased from 88 to 24 members.
In addition, Nez also spoke about inherent sovereignty, meaning that government is at the local, hogan-level.
"The Navajo people are the governing body," Nez said, explaining that it is the people who elected him and Begaye into office.
Nez cited a bill Navajo Nation President Ben Shelly signed into law that would set a referendum on whether or not to change law to state that power originates with the Navajo people and that it is they who delegate legislative authority to the council.
No date has been scheduled for this referendum, according to Edison Wauneka, executive director for the Navajo Election Administration. The referendum hasn't been held because of the chaos surrounding the election of the tribal president and the issue of Navajo fluency.
"It passed and is ready to be put on the ballot," Begaye added.
---