Deschene joins D.C. law firm to work in energy development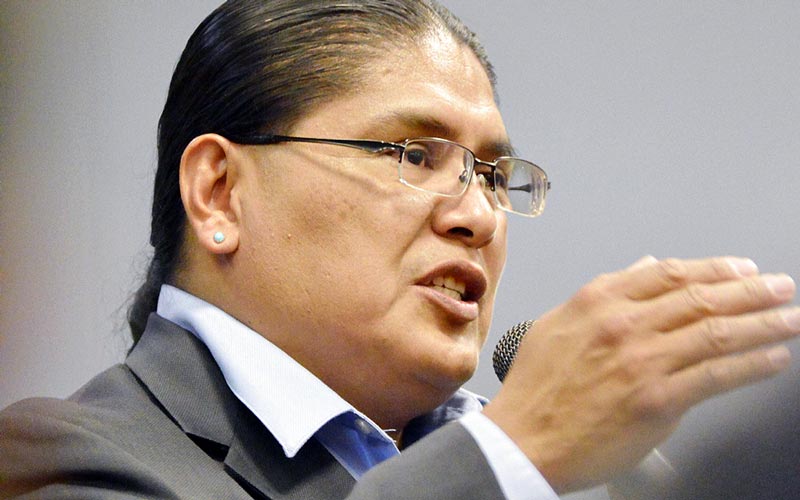 PAGE, Ariz.
Former candidate for Navajo Nation president Chris Deschene has joined a Washington, D.C., law firm to work in energy development.
Deschene, former director of the U.S. Department of Energy's Office of Indian Energy Policy and Programs, has joined Rosette, LLP, as a partner, the firm announced yesterday.
The firm, a majority-Native-owned national law firm that specializes in representing tribal governments and their companies, announced that the LeChee, Arizona native, a former partner with the Law Office of Schaff & Clark-Deschene, will work out of its D.C. office.
Deschene, 46, spent two years overseeing investment, management, and other energy projects in Indian Country while with the DOE.
In April 2014, the retired Marine second lieutenant, announced his bid for Navajo Nation president, saying that the tribe "needs a strong leadership" and that "the future doesn't look too good."
However, Navajo Nation courts ruled in October 2014 that Deschene did not prove that he spoke the Navajo language fluently, as required by law, and should be removed from the ballot. After the primary election, in which Deschene finished second and qualified for the November runoff, two lawsuits sought his disqualification over the fluency issue.
Deschene is a graduate of Page High School and the prestigious U.S. Naval Academy in Annapolis, Maryland, where he received advanced military training and a bachelor's degree in mechanical engineering, which secured him a military research engineer position earlier in his life at the National Laboratory in Livermore, California.
Deschene is also a graduate of Arizona State University where he earned a master's in mechanical engineering and a juris doctorate with a focus on federal Indian law and energy and natural resources.
Deschene is the son of Margaret Deschene from Dennehotso, Arizona and the late Leo Clark Sr. from Coppermine, Arizona. He is Tódích'íi'nii and born for Deeschíí'nii. His maternal grandfathers are Nóóda'í Táchii'nii and his paternal grandfathers are Tábąąhá.
---