Begaye-Nez Inauguration to be held at Fighting Scouts Events Center on May 12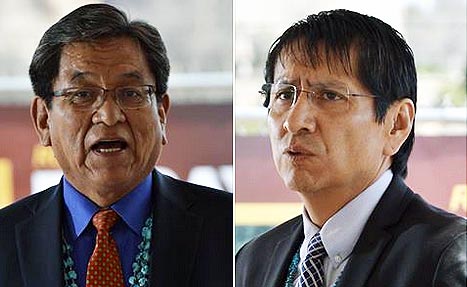 WINDOW ROCK
Navajo Nation President-Elect Russell Begaye and Vice-President Elect Jonathan Nez this weekend released some details of the upcoming swearing-in ceremony and transition.
The swearing in will take place at the Window Rock High School Beeholdzil Fighting Scouts Events Center in Fort Defiance, Ariz., on May 12.
Between then and now, the two will be working on deciding on who will be running the tribal government once the new leaders take over.
"Now, we roll up our sleeves and get to work," Begaye said on his Facebook page.
"Our transition team is working diligently to build our administration leading up to our oath of office. While we build a quality team to work for our Navajo people, we also close out our campaign activity. We invite you to take down our campaign signs around Navajoland as our team is also working to remove signs," he added.
The campaign is now accepting applications from people who want to work in the new administration and a committee has been formed to help with the vetting process.
All of the 14 division positions are still open, Begaye said, and the committee is looking for people "with experience, education and passion" to fill them.
Persons who are interested can send their applications and resumes to P.O. Box 298, Window Rock, Ariz. 86515 or call 505-369-9938. Interested persons can also email to begayenezhr@gmail.com.
---