New generation – Carl Slater – wins election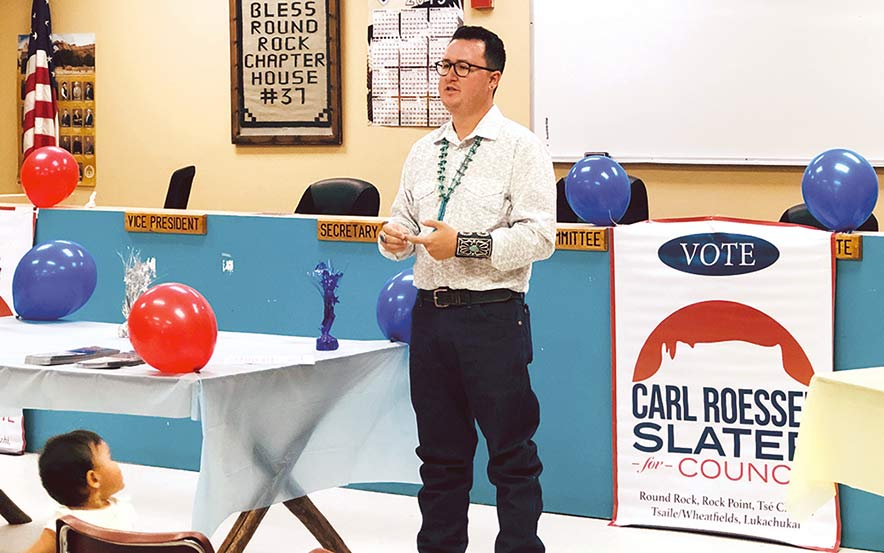 WINDOW ROCK
The Lukachukai, Rock Point, Round Rock, Tsaile/Wheatfields and Tsé Ch'izhí chapters have a new leader: Carl Roessel Slater.
Slater unofficially received more than 50 percent of the chapter's votes Tuesday night, garnering 936 votes, to be elected as Council delegate. The chapters have been without a delegate since July when Nelson BeGaye resigned due to health reasons. BeGaye was a year into his fifth term.
"It was the supporters and people who believed in our message," said Slater about his win. "We were able to bring people together and prevail."
Although born and schooled in Washington, D.C., Slater spent a lot of his childhood in Round Rock, Arizona, with his grandparents, Bob and Ruth Roessel. He graduated from Colorado College and within a year he was hired at the Navajo Department of Transportation as senior public information officer, manager of the airplane department and recently as the communication director for Speaker Seth Damon.
"Too many of your children and grandchildren, my peers, do not have the opportunity to move home after they go to college or trade school," said Slater during his meet-and-greet earlier this month. "There are so many forces that keeps them from moving home, not enough job or houses."
Bringing young people home has been a priority, but he also said his vision to "re-conceptualize" how the Nation governs and who they govern for. "Many of our decisions are just about the next couple years, maybe the next five years," said Slater. "We need to think in 50-year time. What can we do to create institution, policy and environment for our young people to return home? At this rate we are going keep losing people to the city."
But now that Slater has bested his opponents – Herman Largo, Willis Becenti, Jay R. Tom and Kuhyonre E. Nata'ani – he is ready to get to work. He said in a phone interview with the Times that the first order of business is to gather infrastructure priority listings in each community either through political leadership, forums and hearings or directly from citizens, educators and business leaders.
He also plans to follow up on the existing Sihasin and Permanent Trust Fund expenditure plans.
Regarding the success of his campaign, Slater said he believes it came from his supporters who were able to share the enthusiasm of his message. It was also the fact that supporters understood the importance of bringing in new leadership.
Former Navajo Nation chairman and president Peterson Zah and his wife, Rosalind Zah, were at the Wheatfields/ Tsaile Chapter House lending their support to Slater. For the past week or so, Zah spoke in radio ads telling voters in Navajo to vote for Slater.
"Carl is one of those people who listened carefully to his grandma's and grandpa's teaching," said Zah. "He did exactly what the elderly people say: you stay in school and study hard.
"Help the elderly people, don't make fun of them and you're so lucky to have the elderly help you with some of the struggle," he said. "So, in return, when you get your education you come back and help."
Zah said the Navajo Nation is in a time in its history where it must "hand over the baton" to the younger generation of leaders. "His biggest asset is to care enough about his home community and the people on Navajo and he represents a new breed," said Rosalind.
BeGaye, who announced his resignation on the first day of summer session, is originally from the community of Tsaile/Wheatfields. He first was elected to the 20th Navajo Nation Council in 2003. He has served on several committees including the Health, Education, and Human Services Committee, Budget and Finance Committee, and the Síhasin Fund Subcommittee.
Some of BeGaye's prominent achievements for the Navajo Nation included the San Juan River Water Settlement Act in 2010. In 2016, he was the vice chair of the Síhasin Fund Subcommittee, which developed a $180 million comprehensive water infrastructure expenditure plan that represented the largest investment in water projects by the Nation in recent history.
"I started my fifth term as a delegate," said BeGaye when announcing his resignation. "How beautiful we were together when we were sworn in. Four years we said we were going to be together. But, today my colleagues, my relatives, I have to apologize today is my last day. I am resigning from my position as a 24th Navajo Nation Council."
Becenti supporter Elsie Begay, who had been cooking for voters, said she was a BeGaye supporter and when her leader had to resign she knew the reason had to be dire. "Knowing Nelson I thought he might have a big issue that made him resign like that," said Begay. "He was very committed to the government. I was sad when he did."
Unofficially, Becenti received 287 votes, Largo received 365, Nata'ani received 101 and Tom received 137. "My cheii and masani taught me that it was important to partner with local communities to build that long-term vision," said Slater. "To plant that seed of success of tomorrow, today."
---