For the love of the game: Passion for baseball takes Prep grad to Wisconsin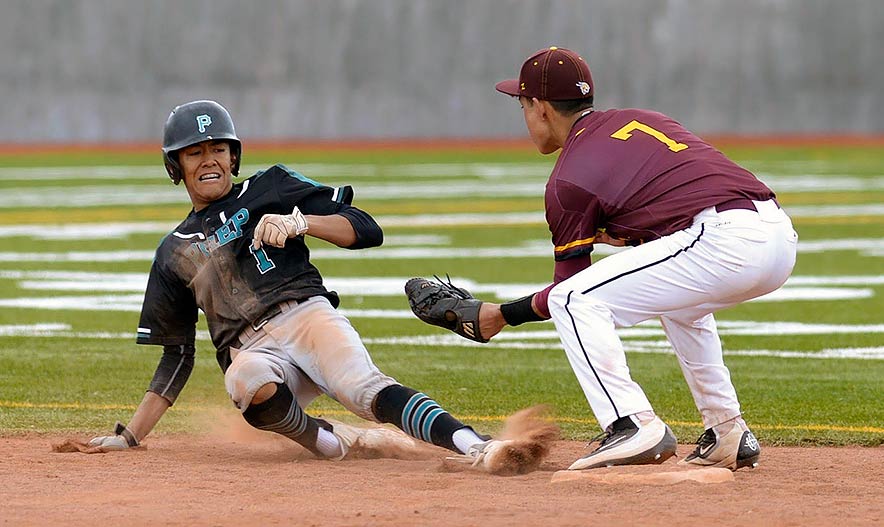 CHINLE
In Wisconsin the skies are clear, the weather is cool and for the moment there is a lot of open space.
According to Western Technical College freshman Marley Deschiney, it's perfect baseball weather.
But, just as in the Navajo Nation, COVID-19 made it difficult to play.
"I was planning on a pretty good season at Navajo Prep," Deschiney said, thinking of his senior year in high school. "Last year we had a strong team and we only lost one teammate from last year.
"So everybody else was coming back this year," he said, "and we were planning on doing way better this year than we did last year, especially with our coach; he built up our team.
"We were hoping this would be his final year and we would all play for him and that we would come out on top," he said. "We would go further than any other team has at Navajo Prep. So that's what the pandemic kind of killed for us."
Deschiney, fresh from the basketball season, had only one game in March. They were counting on more games after the spring break, maybe even playing in some tournaments, but not long after that first game, New Mexico went into lockdown.
Bad timing
Not having baseball this year was a major blow for Deschiney. His family described him as always waiting for baseball to start. But this year the timing couldn't have been worse – it was his senior year and Deschiney had hoped to catch attention from college coaches.
"With the pandemic, the governor said no, the whole NMAA (New Mexico Athletics Association) said no," Marely said. "I also missed the whole season of baseball so my coach for college didn't really get to see me play in person.
"He just got my stats from last year, which I thought was a letdown not seeing me in person, because I believe I'm a pretty good baseball player," he said.
Deschiney was born in Gallup but moved to Durango, Colorado, in his early years so that his mother, Nicole House-Barton, could complete her degree at Fort Lewis College.
"It pretty much started up there," House-Barton said. "We had everything outdoorsy – cycling, hiking, rock climbing. And then it started to move into sports that are popular in this area. Then you start talking about basketball, football and then definitely baseball … sports have always been a part of his upbringing for sure."
Wanting to ensure her son had an active and social life, Nicole signed him up for different sports. Thus far, he has tried baseball, basketball, football, wrestling, cross-country and a little bit of swimming. However, it was baseball that he fell in love with.
"The way that I think about it is that he's been around softball and baseball," Nicole said. "I had one brother who was huge in baseball here in the Gallup area when we grew up. I think that really influenced why baseball is one of his main focus sports and, of course, just being athletic in general, he just took on everything else.
"That included basketball," she said, "that included cross-country – he did amazing in cross-country – but I think it was one of those sports where he didn't feel like it was his passion, like he was good at it but it just wasn't what he always wanted to do."
Family inspiration
Deschiney said his family always inspired him when it came to sports. His mom was a softball player, his dad was a baseball player, his stepdad was an athlete, his uncles, aunts and grandparents have all been athletes at one point in time.
After finishing school, House-Barton moved her family back to the reservation where Deschiney went to school. He was just an 8th-grader when he made it onto Wingate High's varsity baseball team.
However, during a game against Navajo Preparatory School, he saw how good their team was and, not even waiting until the game was over, went up to their coach and asked if he could play for them the next year.
He transferred to Navajo Prep and finished his high school years there, playing varsity baseball all four years under the tutelage of then-head baseball coach Austin Rochford.
"If I had to say, probably for the whole team, Marley was probably one of the passionate kids that I met who enjoyed the game," Rochford said. "I have to say I give credit to his mom, dad, grandpa and his whole family because they definitely matured that kid into a man.
"I definitely saw a big step from freshmen to senior year. He was definitely a kid that always showed up, even if he had bad days, he was there," he said. "But when he had his good days he was unbelievable. He's hard to stop hitting-wise and pitching and also, I would have to say, he's a five-star athlete in my book."
During his time at Prep, Deschiney would play basketball in the winter, some cross-country and one season in football. Rochford believes playing in all these sports helped him to become a better athlete.
"Marley was always good at being very open about learning new stuff," Rochford said. "I think playing different sports using his footwork, hand-eye coordination, a lot of that stuff helped him to be at the top of his game for baseball."
Rochford wouldn't have been surprised if Deschiney had received a lot of offers by the end of the year and continued his passion for the game, but the pandemic changed that.
Coronavirus destroys year
"COVID really, I want to say, 'devastated' our senior year," House-Barton said. "I say 'our' because as a family we were looking forward to this, his senior year, because we were looking at meeting more coaches. So not only did recruiting come to a halt but that also stopped us from being able to reach out to coaches."
Although the pandemic limited him, Deschiney didn't give up. He kept reaching out to coaches, calling them up and sending videos of his performance.
This boldness may be what got coach Joshua Knolls' attention. By July, after much consideration, Deschiney decided to sign up with Western Technical College in Wisconsin.
"I feel way better right now," Deschiney said after team practice. "I'm feeling stronger than I've felt ever, so I feel like if I ever jump into a game right now, I'd perform.
"I'd perform, I'd hit, I feel good," he said, "especially with this team we have – it feels like a family. We trust each other, we have each other's back and we'll play as one unit."
This will be Deschiney's third week of college, all virtual, not really what he had been expecting for his college experience, but it's all right.
As well as playing baseball, his goal is to get a degree in engineering or architectural design, but he won't say "no" if he gets the opportunity to play the sport professionally.
He's settled in his apartment. He isn't feeling too homesick; staying in the dorms at Wingate and Navajo Prep helped him prepare for living away from home.
"I'm feeling pretty cozy right now," he said.
With no clear game calendar up yet, all that Deschiney and his new team can do is practice and wait to see what happens next. Deschiney picked this college as it promised him he could pursue his passion for sports, and he's holding them to that promise.
"What motivates me is that I love the game," Deschiney said. "Nothing beats going out on a freshly mowed field or on the dirt, getting those cleats on and hearing your spikes hit the concrete. And then running out onto the field and onto the grass …
"I think it's just the competitiveness that I have," Deschiney said. "Basketball is fun and all, but baseball is just a sport that makes sense. When you talk to people and they don't understand baseball, that's hard. It's just a lifestyle."
---