'Basically it's a chess match': Prep is in; Thoreau and Tohatchi still scrambling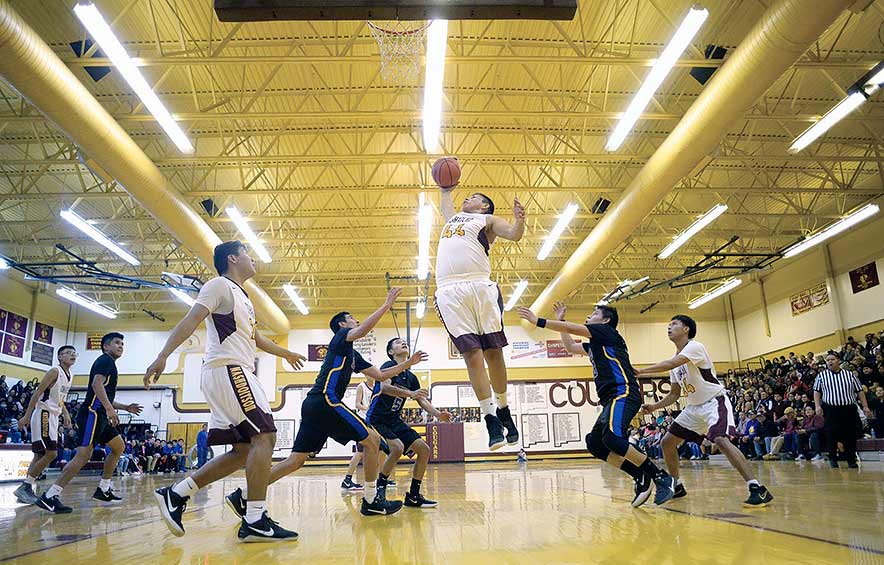 WINDOW ROCK
With the way the District 1-3A is shaping up, the Navajo Prep boys' basketball team has earned its bid for the Class 3A state playoffs.
The Thoreau Hawks and the Tohatchi Cougars are still scrambling to get in.
Both teams sport a 5-2 record in district play coming down the final stretch of the regular season.
Thoreau (13-10) does have the tiebreaker over the Cougars (12-10) after they avenged a one-point loss to Tohatchi earlier this season with a 49-42 win last Wednesday.
"We're ahead of them," Thoreau coach Andrew Gordon said of Tohatchi. "Here's the bottom line: We needed this win if we want to extend our season to the state tournament."
With Navajo Prep playing both Tohatchi and Thoreau this week, Gordon said it's possible that his team could force a tiebreaker for first place with the Eagles.
Of course, Navajo Prep would have to lose both games for that to happen as the Eagles would have entered last night's game with Tohatchi atop the district with a 15-7 overall record, which includes a 7-0 slate in district play.
"Prep has some height and they're pretty speedy with their height so they cover a lot of court," Tohatchi coach Jim Smith said as his team recovered with a 73-45 triumph over Zuni last Friday night. "Basically it's a chess match for us to get open on the offensive side."
The Cougars are looking to even the series with Prep as the Eagles pulled out a 59-54 win on Jan. 24.
Needless to say, Jim said they are jockeying for position to make the playoffs, as they will finish out the season at Wingate (3-19, 2-5) on Friday and at Crownpoint (4-19, 0-7) on Feb. 19.
"In this district you have to be ready to play," Jim said. "It turned out to be true because Crownpoint gave us a tough game and we struggled with Wingate the first time around. You have to give both teams credit because they came ready to play and we had to coach our guys up."
Jim said if they win they should be in good shape at making state after missing the cut last season.
"There's still that chance," Jim said. "We just have to be ready to play every time we step onto the court."
As one of the quicker teams in the district, Jim likes their chances.
"One of our strengths is our defense," he said. "And when we get the opportunity we're going to run the floor."
Like his counterpart, Gordon is looking for a strong finish, as his team would have played at Zuni last night. On Friday, they will host Navajo Prep before entertaining Wingate on Feb. 19.
"It's going to come down to these final games," the Thoreau coach said. "It's a good district and I appreciate the fans that are supporting us."
With two home games left, Gordon is expecting the Thoreau faithful to pack their gym.
"The boys feed off their energy," he said.
---