Coconino runs away from Seton Catholic in final quarter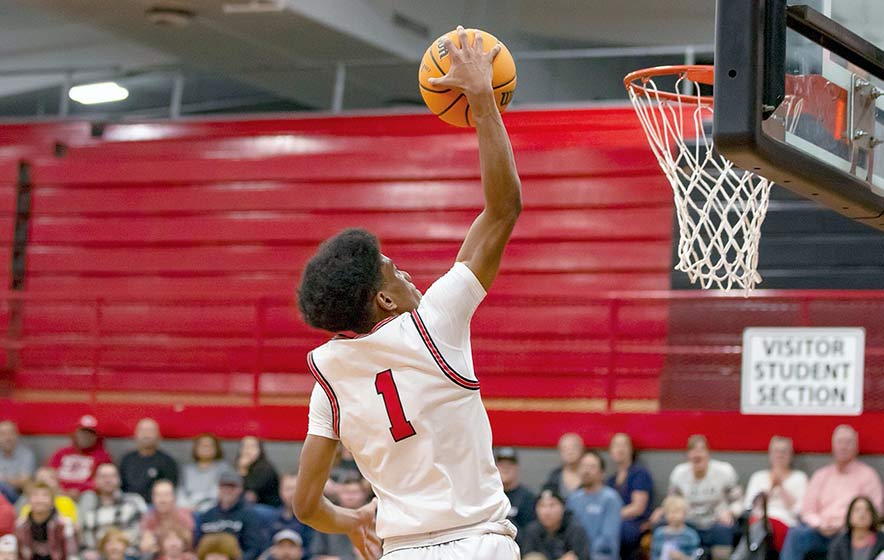 By Jonah Graham
Special to the Times
FLAGSTAFF
After a heartbreaking 63-61 loss against Thunderbird High School, Coconino secured a win against Seton Catholic High School in their third game of the season.
With a tight back-and-forth battle through a majority of the game, Coconino ran away with it in the fourth for a 63-47 win.
Both teams came in with a .500 record with Coconino at 1-1 and the Seton Catholic Sentinels owning a 2-2 record with a previous loss from Notre Dame Prep.
The Panthers were relatively successful in their previous season. With a 15-3 overall record, No. 1 in the 4A Grand Canyon Division and No. 10 in the overall 4A division under coach Mike Moran. Moran retired at the end of last season with 330 wins between coaching Flagstaff and Coconino High School and passed the whistle to then-assistant coach Cooper Elliott.
The game started with Coconino in possession from a jump ball won by senior center Pierson Wastson. With a quick bucket by senior guard Ivory Washington, Seton Catholic ran down the court for a fast layup attempt that Wastson blocked.
The following play, Seton's junior guard Gio Barone collapsed after fighting for a rebound with Washington. Barone was down for a few minutes before the athletic trainers would help him to the sidelines to help regain his composure. At the first timeout, Seton led 10-7.
The first quarter was a back-and-forth match between the schools, but as the time ceased, Washington led Coconino into a strong finish in the initial quarter. Down two points, Washington found the opportunity to create a fastbreak and slammed in a dunk that created an eruption from the crowd.
Washington produced 11 of the 15 points in the first quarter for Coconino while Seton's senior guard Zach Strauss scored all 13 points for them.
"Don't give them more chances than they need," Elliot said regarding Strauss' shooting ability. " Because that No. 5, Strauss will shoot the lights out if you let him so."
In the second quarter, senior forward Memphis James (24) kept the crowd active with an alley-oop to Washington. This set the mood for the rest of the game. Between shots from Washington and James, defense from Wastson and the team, they were able to keep a leading margin that didn't allow Seton to recoup.
"We have only one big who's Pierson or Tyler Ragan right now and they're doing a great job at making sure they're available," Elliott said. "But also out of the way for our drivers like Ivory Washington and Memphis James."
Offense was a big part in the matchup, but defense played an important role as well. With the foundation being built by Moran, Elliott has the proper template to progress on.
"Yeah defensively, I don't think we need to change anything. Because defensively, Moran was a legend. His whole teams were legends but it was built off defense," Elliott remarked when asked about defensive input. "And so we're gonna stick with those principles and pressure and really get up and really take it personal when people score on us."
The final half of the match was full of fouls for the Sentinels and free throws for Coconino. Seton was unable to find a response to the aggressive offense and impenetrable defense of the Panthers. With 19 personal fouls, the Panthers spent a considerable amount of time utilizing that to their advantage.
It wasn't until the fourth quarter that Coconino ran away with the victory. With a 42-38 score at the end of the third quarter, the Panthers pulled away to finish with a 63-47 win over the Sentinels.
""I think it was the defensive rebounding. We didn't have second or third chance opportunities in the first quarter or first half," Elliott said concerning the change in pace. "It feels like the ball was a magnet to their hands and we weren't boxing out the way we should and the second half we really made a point to 'let's go up and get that thing.'"
Washington earned a double-double with 22 points and 11 rebounds. James scored 12 points over the matches duration, and Wastson pulled two blocks during the game. Seton's Strauss had the most points from both sides at 23 for the match up along with seven rebounds.
With a successful win over the Sentinels, the Panthers look to be on course for another successful season under the guidance of its new head coach. With only the third game in, Elliot has ambitions to guide this team into the champions they are.
"We're gonna take it one day at a time, we're not really sure who we are yet. We're still tryna find our identity. But I think as the season progresses, even in our third game, we were way better than we were in our first and second game." Elliot said about the progression of the team. "So it's a really positive thing to see guys stepping up, filling roles, and everybody got a play tonight. This continued defense, that's what you got to have to play in this program and guys are showing that right now."
With a win against Apollo High School following this, Coconino played Peoria Panthers last night. Results for that contest were not available at press time.
---