Down to the wire: Green team prevails in All-Star finale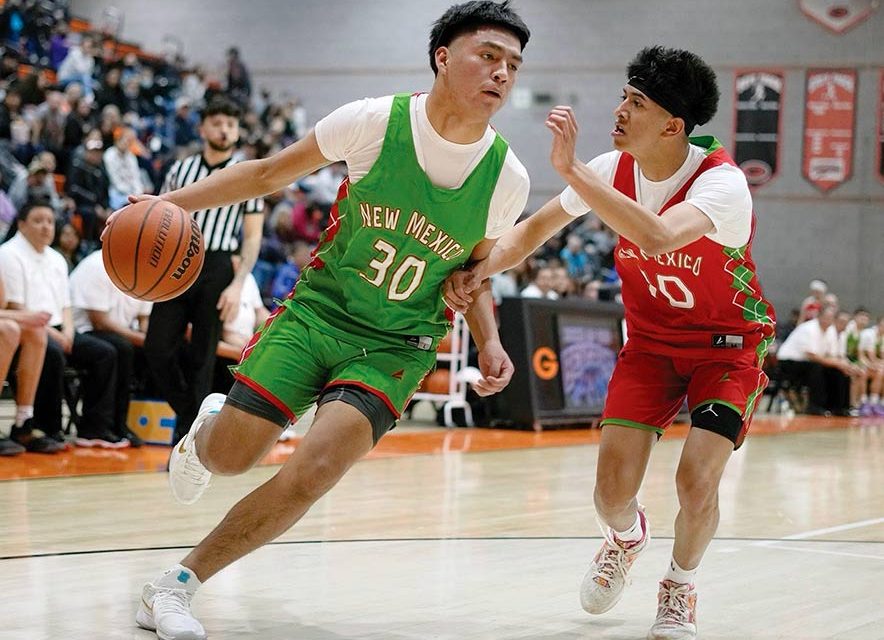 GALLUP
The final contest of the 2023 New Mexico High School Coaches Association All-Star game came down to the wire.
In this evenly matched battle, the Green team prevailed with a 109-107 win over the Red squad Saturday night at Gallup High School.
"I think that's a credit to the process we did in selecting the teams," Red team coach Joshua Dunlap said. "We kind of agreed to do it draft style. Me and (the Green team) coach picked back and forth like they do playground style and it worked perfectly."
Using that process, the Gallup High coach said they were nervous that one team would be heavily stacked over the other as his Red team has some considerable size.
Green team coach Thale Goodluck acknowledged that disparity, but he felt that they could exploit its speed to counteract that.
"We knew they were gonna utilize their bigs and 3-point shooters," Goodluck said. "We had to pick it up on the defensive end and close out their shooters."
The Crownpoint High coach said it was an honor to be selected as one of the coaches for the Green team as he was assisted by Santa Fe St. Michael's head coach Gerard Garcia and Tohatchi assistant coach Lionel Livingston.
"It was fun seeing all the different talent that is out there in New Mexico," Goodluck said. "It was a lot fun and I really didn't have to do too much. I just showed them positioning and the rest they did it themselves."
The Green team took the lead for good at 92-90 on a 3-pointer from Artesia senior Nick Sanchez at the 5:36 mark of the second half.
The Goodluck-coached team stretched that margin to as much as seven points before holding onto the win as the Red team had a two opportunities to tie the contest with under 13.6 seconds left.
"Man, that's just basketball," Red All-Star player Nathaniel Yazzie said. "We ran what we wanted to run, and we got what we wanted to get, but that's just basketball."
Despite coming up short, Yazzie said he was blessed to be coached by his high school coach one more time while playing alongside teammate Isaiah Tom.
"I appreciate this so much," the Gallup senior said. "It's a dream come true, you know, playing in an all-star game and playing in my hometown. It's just surreal and I really don't know how to put it into words right now, but it's great."
With only one day of practice, Yazzie said his new all-star teammates had to learn as many set plays as they could.
"They did great in learning how to execute these plays," he said. "We actually clicked very well that first day and it was great to play with guys that have a high level of talent."
The Red team was led by Pojoaque senior Derek Sanchez as he put in 22 points. Kirtland Central's Satchel Hogue added 18 and St. Pius X senior Brian Kalb chipped in 17.
Hogue had the hot hand early in the contest as he nailed three early treys in the opening half.
"During warmups, I wasn't shooting that good, so I wasn't sure if I was going to score that many points," the KC senior said. "It changed in a matter of time, so that was good for me."
The Red team also got 11 points each from the Gallup High players in Tom and Yazzie while Newcomb's Javin Tracy put in two.
"I think I did alright," Yazzie said. "I just tried to play my game and get my teammates involved. I wanted to play my game, which is attacking the basket. I also like to shoot a little bit, and I think I did that."
The Green team was led by Sanchez as the Artesia guard finished with a game-high 30 points. Hope Christian forward Jett Wyckoff added 22 and Deming's Alex Alfaro finished with 13.
Crownpoint senior Tyrell Archie scored two points for the Green team.
"This was a good experience," Archie said. "I got a chance to see where I'm at compared to the rest of the state. It was a chance for me to see how I matched up with teams off the reservation."
And while he got some ample playing time, the Crownpoint High senior said he couldn't find his rhythm.
"I just couldn't get anything going," he said.
---