Henderson named Coach of the Year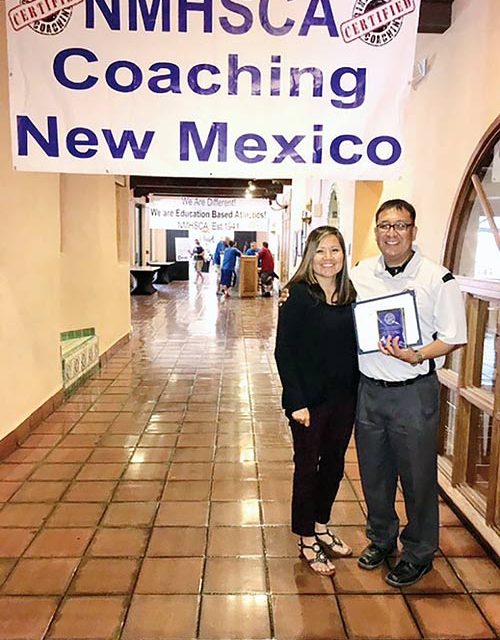 FRUITLAND
Larenson Henderson always knew he wanted to coach basketball.
But he never realized it would take him over 20 years to finally run his own program. Now, the Shiprock High School girls basketball coach not only won his first state title this last season but was named New Mexico High School Coaches Association 2017 Girls Basketball Coach of the Year last month.
After a lengthy voting process Henderson learned of his selection in July and was recognized last week at a banquet in Albuquerque.
"I still hasn't sunk in," he said. "I was just really surprised to be a part of an elite list like that. I kind of made it a goal to make that list maybe in 10 or 15 years, I didn't expect it to come that early."
Henderson, 43, took over the girls basketball program five years ago. He led the team to multiple state playoffs, district titles, and a state title this past season after his team defeated arch-rival Hope Christian School.
But his journey to the top of high school basketball started long before he led his team to a state title and way before he started officially coaching.
Henderson was a 1991 graduate of Shiprock High School who played basketball but never earned a state title.
His parents couldn't afford to send him to college so he got a job with Central Consolidated Schools as a paraprofessional and worked with exceptional students, introducing them to basketball.
"I wanted to do more so I became a bus driver too. I took care of the kids and I just started telling them to play basketball," Henderson said. "I wanted to relieve the kids' stress."
He taught them the game and then how to compete. They competed locally, regionally, at the state level and were eventually invited the world games.
---