Lady Cougars play their game, aim for title defense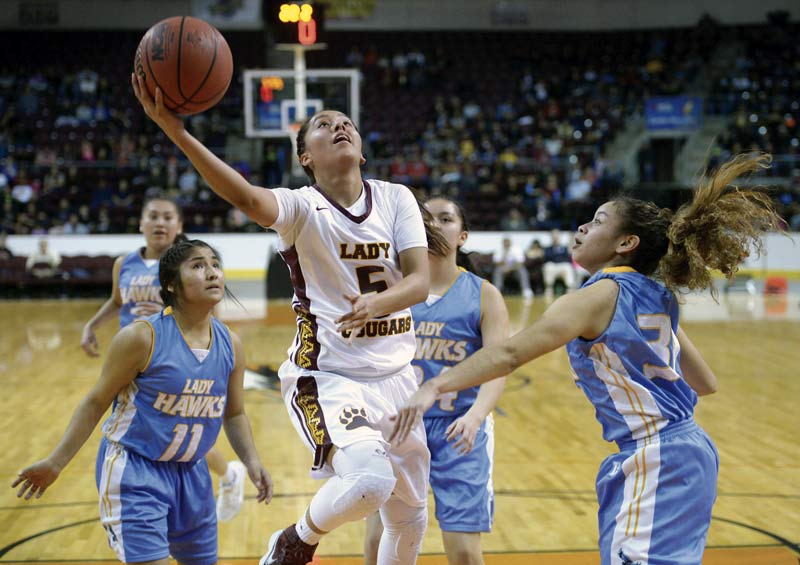 RIO RANCHO, N.M.
The Tohatchi girls' basketball team reached the Final Four for the third straight year and used their experience to open up a huge lead over Dulce on Tuesday night at the Santa Ana Star Center.
The second-seeded Lady Cougars improved to 23-6 overall and advanced with a 67-45 win. They are one game away from defending their Class 3A state crown.
Tohatchi would have played No. 6 seed Tularosa at 8 a.m. this morning as the Lady Wildcats defeated No. 3 seed Eunice by a 50-31 count.
Tohatchi coach Tanisha Bitsoi said it's an asset having that state experience, as the Lady Cougars were feeling comfortable right from the get-go.
"They have been to the state tournament every year so I am a firm believer that it does impact our players," Bitsoi said.
Drawing from their experience, Tohatchi opened up a 26-10 lead in the opening quarter by nailing 6-of-10 treys. Sharpshooter Kalian Mitchell started the romp by scoring the first five points, which included a trey with the game only 12 seconds old.
Sophomore guard Samantha Belone extended the lead to 8-0 with a long bomb before Dulce got on the scoreboard with sophomore Brannon Vigil hitting a trey with just under six minutes left in the opening quarter.
Vigil hit another 3-point shot but the Cougars relied on their defense to close out the opening stanza on an 18-4 run. Twelve of those points came off threes as four different players found their range.
"When they bring that energy defensively it creates our offense," Bitsoi said, who noted that before the game she reminded her players that they needed a sense of urgency.
That resolved carried over in the next stanza with Tohatchi outscoring the Lady Hawks 17-10 that translated into a commanding 43-20 advantage at the break with Mitchell scoring 14 of her game-best 22 points.
"It starts with our defense," Mitchell said of their prolific scoring.
---