2nd World exhibit takes flight Friday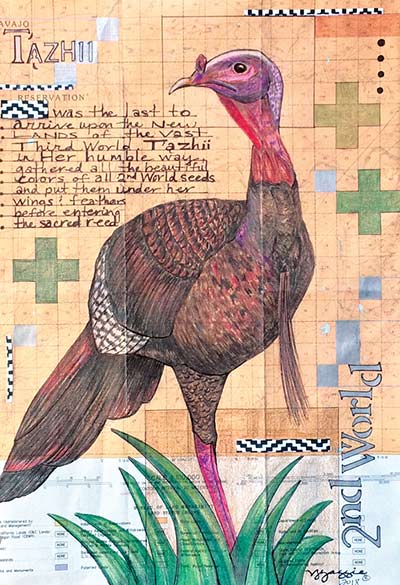 WINDOW ROCK
The style is modern, but the symbols are as old as the Diné. The language is English, but the words are from stories that were retold over the generations in Navajo before they were ever written down.
It's a case of the Fourth World reaching back to the Second, the world of the Bird People.
Many of the great healing ceremonies are accompanied by both songs and sand paintings, and Navajo/Hopi artist Venaya "VJ" Yazzie believes the combination of words and art can still heal. In her latest exhibit, "Second 2 Fourth Series: The World of the Ancestral Bird Relatives," she examines the Bird People who still share our world, and the lessons they might have for us: song, creativity, planning for the future.
"Second 2 Fourth" will be up at the Farm Bistro, 34 W. Main in Cortez, Colorado, through April 16. It will open tomorrow (Friday) with an introduction by the artist at 4:30 p.m.
Yazzie has been into birds a lot lately, partly because she lives near the Animas River in Farmington and part of her daily ritual is to walk along the river and note the various birds she sees. And also, "With everything that's going on in the world today, I need a being besides humans to inspire me."
---