No. 1 Navajo Prep turns back Thoreau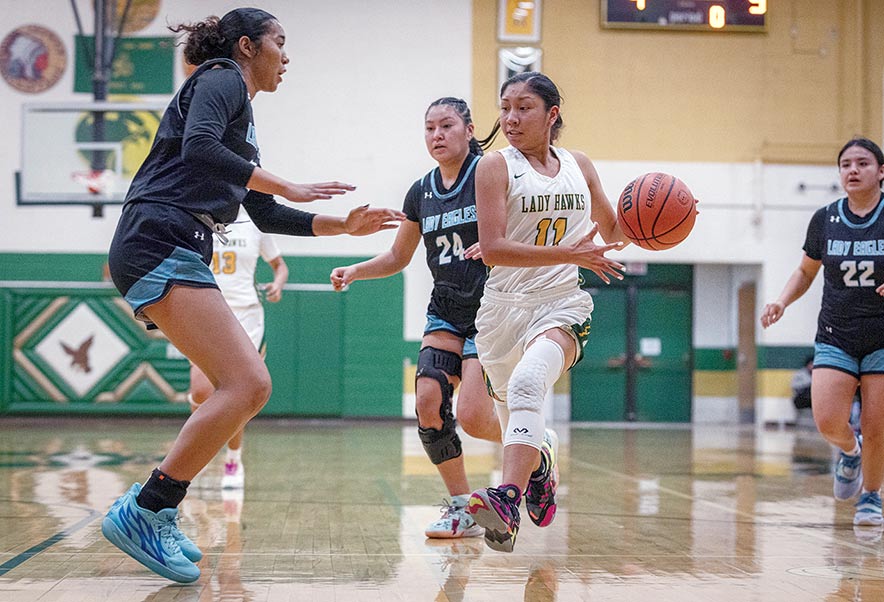 By Santiago Ramos Jr.
Special to the Times
THOREAU
Class 3A top ranked Navajo Prep used tough defensive pressure while scoring on key layups in the final quarter to turn back a tough No. 5 ranked Thoreau team, 52-47 Monday night in a decisive girls District 1-3A basketball matchup.
The 14-3 Lady Eagles, 3-0 in district, took advantage of uncontested layups in the fourth quarter to secure a key but difficult district win to remain on top of the District 1-3A headboard with nine more district battles remaining.
"We set really good screens and they were open," said veteran Navajo Prep head coach Rainy Crisp who returned three starters off last year's squad. "That worked for us. These girls work hard and they don't give up. They battle. We went down to Santa Fe Indian School and every game there was a battle."
Crisp, who is in her 18th season at Prep, said that competing in the District 1-3A, with five of its seven teams ranked in the Top 10 in the state, is challenging whether playing at home or on the road.
Prep, which won the 3A state title in 2020 at the start of the pandemic, is ranked No. 1, followed by Tohatchi No. 4, Thoreau No. 5, Zuni No. 9 and Crownpoint No. 10. Las Vegas Robertson is sitting at No. 2 and Santa Fe Indian No. 3. Prep nipped Santa Fe Indian 39-37.
"You can never count anybody out," Crisp said. "These guys (Thoreau) came out really good. They came out very strong and ready to play. Districts we always battle. This is great competition and exactly what we need. We're going to try and make another run (for a state title)."
Prep was coming off a 52-40 district home win over Tohatchi.
"Defense was the key," Crisp said of the win over the Lady Cougars. "We've been working on that from the beginning of the season to now. So it's getting a lot better."
Treys by senior guard Malorie Halloway and sophomore point guard Mychalyn King kept Thoreau (11-5) within range of Navajo Prep at 38-35 early in the fourth quarter.
Prep junior standout forward Aniya Johnson, who finished with 16 points, buried a pull-up jumper and then the lanes opened up for Navajo Prep.
The Lady Eagles scored on six clutch layups with Thoreau unable to pick up on the defensive switch on the screens. Navajo Prep sophomore Shiloh Conn led the parade with a layup followed by an uncontested layup sophomore Cassidy Jones. Senior Ronalda Begay followed with a layup and Johnson went to the hoop twice on lay-ins.
Junior Tru Billie, who led Prep with 19 points, scored the sixth layup of the quarter that gave Prep a comfortable 52-43 lead.
Thoreau's talented senior guard/forward Leah Delgarito, who led with a game-high 20 points that included three treys, pumped in a pair of 3s in the fourth quarter, but that was not enough.
With time running out Thoreau's Halloway sank a 1-and 1 and King scored with 14 seconds left as Prep escaped with its latest district win.
Thoreau took the early lead at 4-0 but Navajo Prep reeled off 12 unanswered points on treys by Conn, Johnson and Jones.
Thoreau tied the game for the only time at 29-all in the third quarter on a trey by Halloway with 3:30 left. An easy bucket by Johnson on an in-bounds pass gave the Lady Eagles the lead they would not relinquish the rest of the way.
Thoreau was plagued by 26 turnovers with 18 coming in the first half. Prep had 12 turnovers in the first half before settling down in the second half with five more to finish with 17 for the game.
Prep struggled at the free throw line, sinking just 7-of-23 free throws for a miserable 30 percent. Thoreau was a perfect 4-for-4.
"That's something we'll look at definitely tonight," Crisp said of her team's poor shooting at the line.
---