Rehoboth clamps down on defense, beats Estancia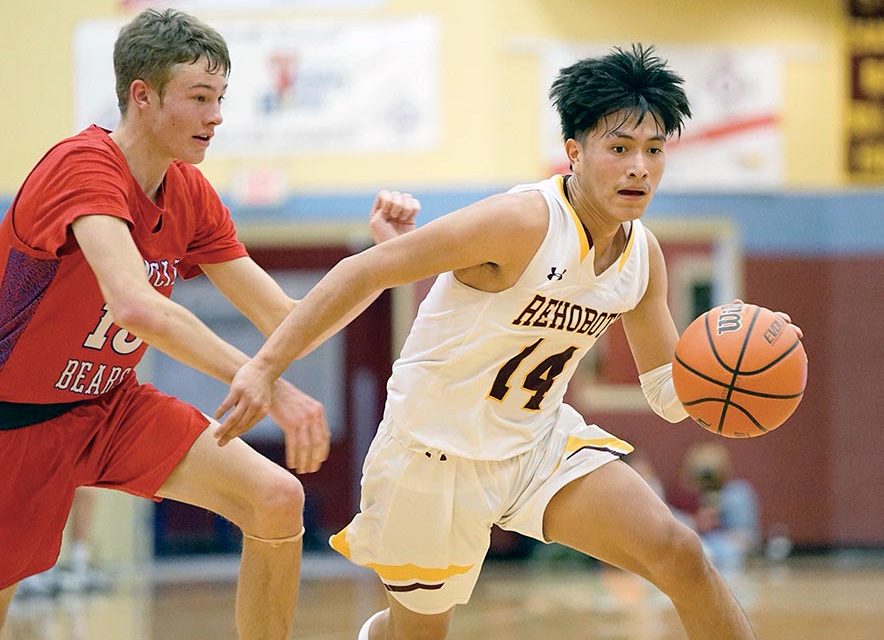 REHOBOTH, N.M.
The Rehoboth Christian boys basketball team is trying to build an identity.
That is what longtime coach Kevin Zwiers has surmised about his 8-7 club.
The Lynx defeated the Estancia Bears 66-49 in a non-district game Saturday.
After leading 39-31 at the break, the Lynx withstood a barrage of 3s from the visiting Bears as Estancia got as close as 42-40 with 4:42 to go in the third.
Rehoboth, however, clamped down on the defensive end as Estancia scored only nine points the rest of the way.
"They're a really good team, and good teams make a run," Zwiers said of the Bears. "We knew they were going to do that. What we talked about before the game is keeping our composure.
"What we've been working on is building an identity of playing defense," he added. "I would say that is what got us back in there. We got a couple of stops and we grabbed some rebounds, and that always leads to better offense for us."
Both teams finished with seven treys as Estancia got three each from seniors Aiden Boyle and Dre Moreno. Boyle led the Bears with 16 points and Moreno chipped in nine.
For Rehoboth, junior Raeden West scored a game-high 22 points with 18 coming in the first half.
Junior Kaleb Vail added 17 while freshman Trajen West helped out with eight points.
After graduating some key players off last year's 23-4 team, Zwiers said he started the season with an inexperience group.
"Our playmakers graduated and they were instrumental in what we did," he said. "They were really good, and so this year we're having to make new playmakers on the floor.
"They're having to learn what their roles are this season, and they're coming along," he added. "They're starting to get it."
Raeden West, who is one of three returning players that played significant minutes last season, said the process of developing players has been a slow process.
"It's slowing coming together," he said. "We're trusting that grind, and we're putting the pieces of this puzzle altogether."
"We started the season not so well," Rivas chimed in. "I mean, our chemistry was not there, but we kept pushing ourselves. We now know what we're capable of."
Last season, the Lynx captured the District 1-2A title with a 6-0 record. Zwiers is expecting a tough go at this year's race as they will finish out the regular season with 11 games.
"We're packing them in here the next few weeks," he said of the schedule that includes games with 3A schools Zuni, Bosque, Crownpoint, Cottonwood Classical Prep and Thoreau.
"Honestly, we're all down for that," Rivas said. "We know it's coming and we're ready."
As for the district season, Zwiers said Dulce has some veterans on the squad.
"Dulce is up there," he said. "They're good. They got some size and they got some shooters. That'll be a tough team to contend with."
The Rehoboth coach said Laguna-Acoma has a new coach and they have some young players.
"Their system has changed, but they're going to be tough," he said while noting that Navajo Pine is one of their chief rivals.
"It's always tough when we play them," he said of the Warriors. "I mean, it's a rivalry game between us and Navajo Pine."
West said he's looking forward to the district season and he believes Dulce will give them a stern test.
"They're looking strong," he said of the Hawks. "They have some guys coming back. They have a 6-foot-5 dude, James Johnson, that can do anything.
"We're very undersized, so we have to front him," he said.
The Lynx opened the district season with a 63-29 win over Laguna-Acoma as they are scheduled to host Zuni on Friday before traveling to Bosque in a pair of nondistrict games.
On Tuesday, Rehoboth will resume district play for an away game at Navajo Pine.
Looking ahead, Zwiers believes his club can be a playoff team.
"We got a bunch of games left and we're starting to get hot," he said. "We're playing well at the right time, especially with 2A teams.
"I mean, the top team right now is Pecos and they're really good," he continued. "Other teams have impressive records, but if you look at scores the games are really close. And so whatever team can get hot and get on a roll, they have a real good chance to make a run in the state tournament."
---