Rehoboth boys take down Navajo Pine in rivalry game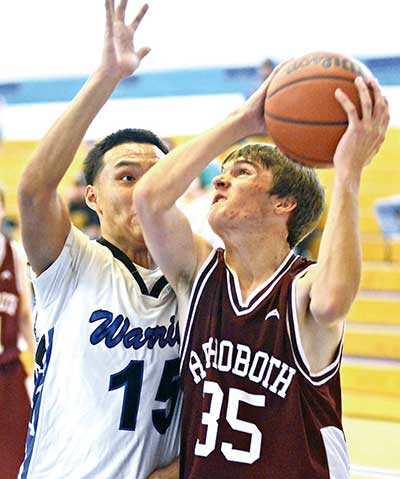 NAVAJO, N.M.
The players come and go but one of the greatest rivalries in New Mexico renewed itself on Tuesday night as Navajo Pine hosted Rehoboth in prep boys action.
"We were actually talking about it on the way up here," said Rehoboth coach Kevin Zwiers, whose team earned a hard-fought 52-47 win in the latest installment against their archrivals.
Back in the day, the Rehoboth coach said it was a ritual to see both teams have a huge following.
"When our bus would pull up there was already a line outside," he said. "The gym was packed for the C team game and they got more and more rowdy with each game."
And while they don't draw the same crowds these days, Zwiers said their encounters still remain epic.
"The Navajo Pine and Rehoboth rivalry is an old one but it's a good one," he said. "Anytime you play you have to be ready to go."
In Tuesday's win, the Lynx got off to a fantastic start with senior Tristan Gibson nailing two early treys for a 6-4 lead.
His early shooting open things up for the rest of his teammates as they got some good looks at the basket.
In succession, Rehoboth hit three consecutive buckets that prompted Navajo Pine coach Charlton Long to burn a timeout.
Unfortunately, that timeout did not solved the Warriors' deficiencies as Gibson added another trey a 16-4 cushion heading into the second.
"We couldn't find a good rhythm," Long said of their shooting woes in the opening quarter. "We had a week off and this was our first game back so we were out of sync."
In the second, though, the Warriors began to show some signs of life.