Tohatchi girls get past LA, to face top-seeded Tularosa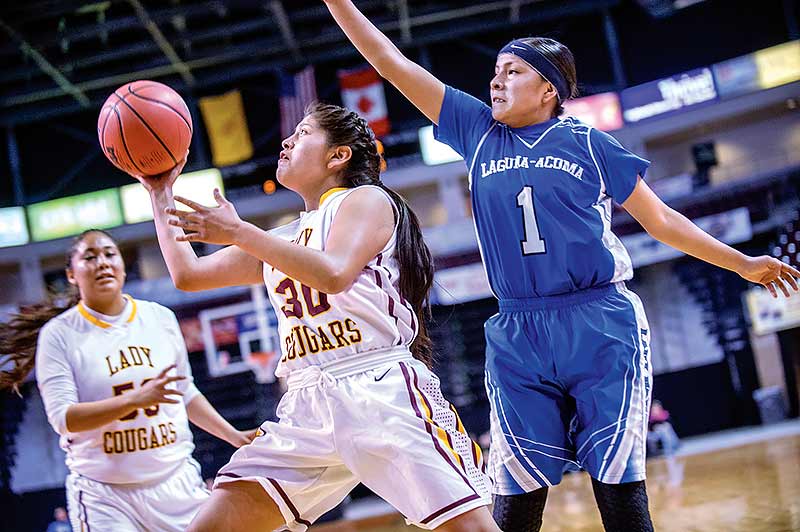 RIO RANCHO, N.M.
It took some time for the Tohatchi girls basketball team to fully find their game.
But when they did the No. 4 Lady Cougars erased a four-point deficit midway through the fourth stanza to come away with an exciting 52-45 win over No. 5 seed Laguna-Acoma in the quarterfinals of the New Mexico Class 3A state girls state basketball tournament.
"The game was a struggle until those last three minutes," said Tohatchi coach Tanisha Bitsoi, who added that "a win is a win" regardless of how ugly it was.
"We were on them from the beginning because we felt that we weren't playing to our potential and we weren't playing Lady Cougar basketball," she said.
And while she was grateful to see another day, Bitsoi said she expects her team to come out stronger when they take on top-seeded Tularosa today at 11:30 a.m. at the Santa Ana Star Center in Rio Rancho, N.M. with the winner playing in Friday's final at 1:30 p.m.
The unbeaten Tularosa team defeated Lordsburg 78-47 in their quarterfinal game.
"They're scrappy team but we're going to fight them to the end," Bitsoi said. "I'm excited about this matchup. We've been hearing about them all year."
In Tuesday's contest, the Cougars trailed for over 17 minutes but they got their swagger back when junior guard Cheyenne Begay used her hustle to outrun the Hawks during an 11-2 stretch.
With her team trailing 41-37 with just over five minutes left in the contest, Begay scored seven points as the Cougars built a 48-43 cushion with 1:29 to go.
"Everyone says I have NOS," Begay said of the acronym known as "Nitrogen Oxide System."
Like her coach, Begay said they did not play great but she was happy that they pulled it out at the end.
And while they were stagnant for most of the night, Bitsoi made some necessary changes to steal the momentum as they employed a more aggressive defense by going man-to-man.
That defensive switch may have caught their opponent off-guard as they committed six of their 19 turnovers in that fourth quarter. The Hawks also missed some key shots inside, including a few putbacks.
"The better team won tonight," Laguna-Acoma coach Randy Hunt said. "I think we were the better team in that second and third quarter but when it mattered most Tohatchi did the right things in the fourth quarter."
---