Window Rock girls making case as state power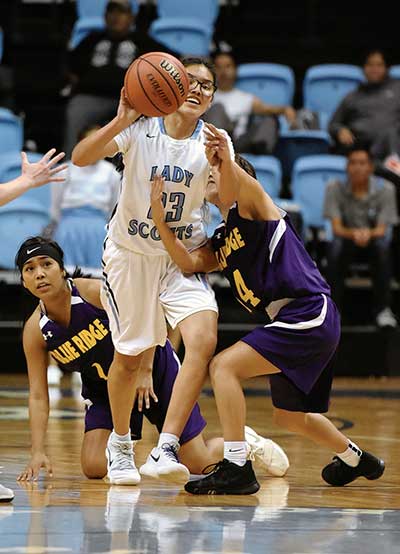 FORT DEFIANCE
With nine days left in the regular season, first-year Window Rock coach Sharon Toadecheenie likes where her program is headed.
Since taking over last summer, Toadecheenie has transformed her team into a state contender as the Lady Scouts are holding down the No. 4 spot in the latest Arizona Interscholastic Association statewide rankings.
"I think we're starting to peak at the right moment," Toadecheenie said on Monday night following her team's 81-39 victory over the Blue Ridge Yellow Jackets.
On Jan. 16, the Scouts solidified itself as a state threat when they beat top-ranked Ganado in a 54-53 overtime tilt.
Toadecheenie said winning that game was big for her program. She credited the seniors for taking the reigns of the program as they sport a 14-5 mark heading into today's freedom game with Pinon.
"The seniors are stepping up and taking over the leadership role," she said.
The Scouts have four such seniors with Venessa James and Haley Talkalai averaging 14.7 and 8.0 points per game as starters. Fellow seniors Kristen Sanderson and Kymberly Pablo come off the bench and put in quality minutes, says Toadecheenie.
"I think our team has really grown over the past few months," she said. "Our offense has been clicking and they are learning the style of play I want them to play."
And although she's not an alumna of Window Rock, Toadecheenie remembers the yesteryears of Lady Scout basketball when she played against them back in the 1980s.
"I told them about the history of Window Rock basketball," said Toadecheenie, who played for Many Farms in high school. "They played an uptempo style and I'm using that to motivate them."
Toadecheenie said they are still learning the system and but she feels they are getting there.
---