Lyla June: Writer, poet, musician, healer, singer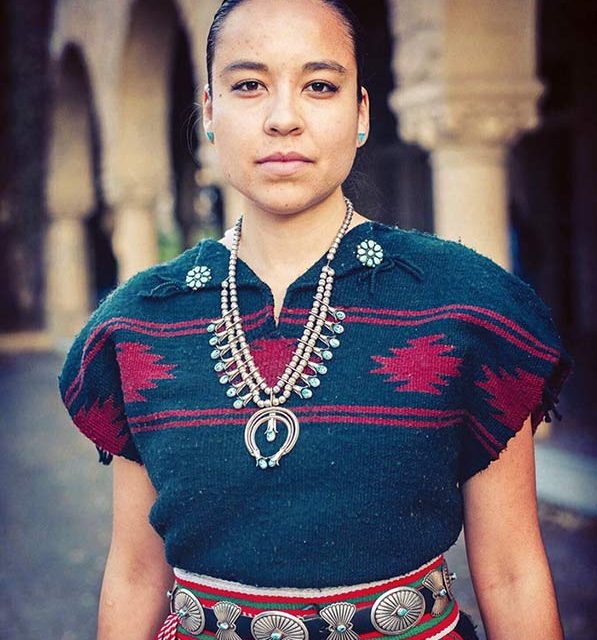 By Dave Ashdown
From an interview from "Chicago 'N Beyond" and NoDepression.com
ALBUQUERQUE
Lyla June is a singer, songwriter and musician who is also a poet, activist, educator event organizer and scholar. She is a graduate of Stanford University and just finished her graduate thesis in American Indian Studies at the University of New Mexico. She was raised in Taos, New Mexico, and is a descendant of Diné and Tsétshhéstahese (Cheyenne).
She is Naaneesht'ezhi Taach'iinii.
• What role did music play in your upbringing in the Diné tradition?
In the Diné language (Diné Bizaad) Hataalii means both "singer" and "doctor." Also, in our language Sodizin means both "song" and "prayer." So in my upbringing, music was all about deep intention to make the world a better place. Music was seen as a healer and singers were viewed as doctors. I was born into a world of struggle, as Native Americans continue to live in post-war conditions after the Native American holocaust. There's a lot of work to do to improve our communities. I was raised by strong people to live my life deliberately and to view every one of my creations as an opportunity to heal my people, all people.
• Were you discouraged at all from getting into American pop music and its culture as a kid?
I was never discouraged from this. In fact, society encouraged me to listen to this because it was "cool" and it was the only thing on local radio stations. I drank the Kool-Aid for a lot of years and went along with the programming of American children. There was a time, though, around age 10, when I actually stopped drinking soda and I stopped listening to mainstream music. I started to see that mainstream music often times was part of the problem of keeping the public ignorant and distracted.
---