Bloomfield, Farmington fall in state semis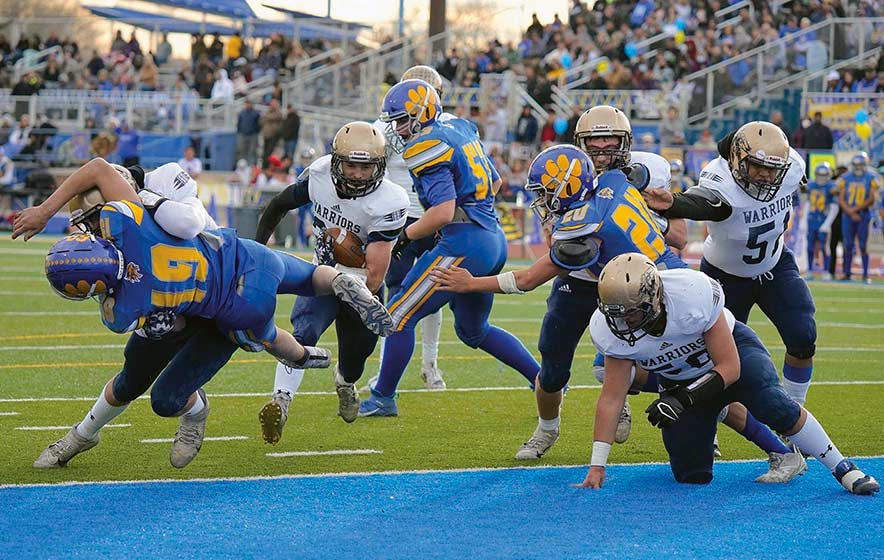 BLOOMFIELD, N.M.
In a clash for a 4A state finals berth, the Bloomfield Bobcats saw its season come to a close on Saturday afternoon.
The second-seeded Bobcats played evenly with No. 6 Ruidoso for nearly one half before coming up short 35-22 at Bloomfield High School.
"They're a quality ball club," Bloomfield coach Mike Kovacs said of the visiting Warriors. "We knew they can move the ball. We worked on the run game all week. We just didn't execute as well as we'd hoped.
"They kept getting us a man over and we just couldn't execute," he added. "It looked like we played on our heels most of the day."
After both teams exchanged scores for a 14-14 stalemate, the Warriors scored on three straight possessions to open up a 35-14 cushion.
"You know, these guys just keep on fighting," Ruidoso coach Kief Johnson said of his club. "They keep on fighting until the end. I can't say enough about our offensive line. They stayed on their blocks, and they just kept us moving."
Coming into the Saturday's semifinals, Johnson said he was concerned with Bloomfield's defense.
"They did a heck of a job crowding that box," he said. "They put everything that they could up there but we found a way to still run the ball."
The Warriors had five players carry the ball as they racked up 251 yards on 54 carries.
Senior Braxton Hall led that attack with 120 yards on 28 carries and two touchdowns. Griffin Hooker added 62 yards on 14 carries and one TD while junior quarterback Cooper Pritchett finished with 41 yards and two scores.
In the air, Pritchett completed 14-of-22 passes for 121 yards.
"We got three good running backs back there," Johnson said. "With those three guys we just kept on going."
The Warriors took the lead for good late in the first half as they completed a time-consuming drive that went 56 yards in 16 plays.
In that drive, the Warriors started at their own 44-yard line after Bloomfield failed to convert a fourth-and-four with just over 5 minutes left until the break.
After an 11-yard run by Hall, the Bobcat defense looked like they were going to get the ball back but Ruidoso converted a successful fourth-down conversion.
With seven yards to go, Pritchett found senior wide receiver Mikey Sandoval for a 16-yard reception to keep their drive alive.
Pritchett completed two more passes for 10- and 7-yards that set them up at the 2-yard line before he punched in a TD with 12 seconds to go.
After the PAT, Ruidoso led 21-14 at the break.
The Bobcats started the second half with a first down but they were hurt by a 15-yard penalty as it set them back at their own 30-yard line.
They got pushed back an additional 12 yards and with a fourth-and-long the Bobcat initially lined up to punt, but special teams Jeremiah Sandoval saw something and he went for it.
"He was waiting and they baited us," Kovacs said. "They hid No. 7 (Griffin Hooker) behind the line, and Jeremiah thought he saw an alley and he just got ran down.
"We've told him all year if you see grass – go for it," the Bloomfield coach said. "He saw grass and took off, but it just didn't work out for us. But that was fine, these kids have played their butts off and that's what we'd like to see."
With a short field, Ruidoso doubled its lead to 28-14 after Hooker completed a 32-yard drive by running in the final seven yards with 6:29 left in the third quarter.
The Warriors forced another Bloomfield turnover as the Bobcats had a 48-yard drive stall at Ruidoso's 28-yard line.
The visiting team went up 35-14 with 9:35 left on a 1-yard TD run from Pritchett, which completed a 72-yard scoring drive.
With 1:51 left, Bloomfield ended a 32-minute scoring drought with sophomore Jesse Seitzinger finding pay dirt on a 3-yard TD run.
In the opening quarter, Bloomfield got on board on a 17-yard TD run from senior Diego Snell-Martinez with 6:23 left.
The failed PAT left the score at 7-6 in favor of Ruidoso.
After a series of turnovers, the Bobcats converted a George Rascon interception into a 14-7 cushion with quarterback Ryan Sharpe finding sophomore Andrew Blair wide open for a 20-yard TD with 9:30 left in the first half.
That TD lead was short-lived as Ruidoso took over the momentum with 6:28 left before the half.
Sharpe finished the game by completing 18-of-30 passes for 162 yards and one TD.
Snell-Martinez added 71 yards on the ground on 10 carries and a score while Aaron Johnson had three carries for 14 yards and Seitzinger had five carries and 12 yards and a TD.
"My heart goes out to all of our seniors," Kovacs said. "It's hard to lose when you're one game away. You want them to go to the championship and you want them to get a ring and, you know, what we battled all year,
"These seniors have laid it out all year for this team," he added. "I wanted to get them a win, and we tried everything we could in the book. It was just one of those things that we fell short of our goal."
The Bobcats ended its season at 10-2 overall.
Farmington
In the Class 5A bracket, the top-seeded Farmington Scorpions were also denied a state title berth as they dropped a 57-14 decision to No. 4 seed Artesia.
The Scorpions led 14-7 with senior quarterback Brandon Furbee connecting on an 8-yard TD pass to Julian Gomez with 6 minutes to go in the first quarter.
After that score, the Bulldogs scored 50 unanswered points to move into the state title game.
The Scorps finished the year at 11-1 overall.
---