Coaching itch returns Denetso to Navajo Prep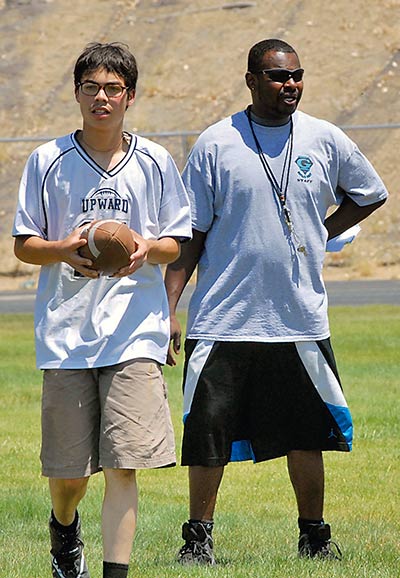 FRUITLAND, N.M.
Roderick Denetso thought he was done coaching football.
The former Navajo Preparatory School 2011-15 head football coach hung up his headset after the 2014-15 season to continue his education, and decided he was done coaching football.
But last year, Denetso had an itch and became an assistant coach at Shiprock High School. After one season back, he has decided to return to Navajo Prep as the new head football coach.
"At the time I didn't want to coach anymore, honestly," he said. "I just wanted to build a relationship with my kids, my son, and my family.
"Football was very time consuming and at the time I didn't think I was going to coach again," he said. "But every August, I was just anxious as another football season rolled around."
He coached the Eagles to three state playoff appearances in his previous position at Navajo Prep.
Denetso took some time off after his last season and returned to school to finish his graduate degree.
He said he tried to do it all – coach, family, schoolwork, and work all at the same time. But something had to give.
"It was just too hard," he said. "There was also personal family stuff that I had to take care of."
After obtaining a master's degree last spring, Denetso considered returning to the field and former Shiprock head football coach Eric Stovall gave him a coaching gig.
Denetso served as the special teams coordinator and wide receiver coach at Shiprock.
He said Stovall and the opportunity at Shiprock was what got him thinking about returning to the sideline as a head coach.
"Stovall is the one that talked me back into going to Shiprock," he said. "I just told him that I really wanted a limited role, and I ended up taking on more than I was supposed to. I thank Coach Stovall for talking me back into coaching. I really did miss coaching and I missed the kids."
---