Eagles shutout Newcomb in second half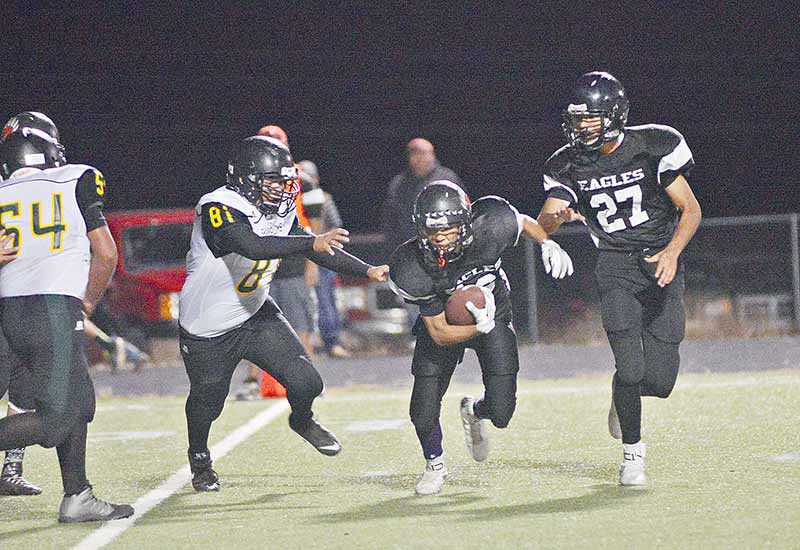 CROWNPOINT
A fourth down conversion and a fake field goal attempt set the tone for the Crownpoint Eagles.
The Eagles managed to keep its initial drive alive en route to a 32-6 win over the Newcomb Skyhawks on homecoming night.
"I think that kind of did it for us," Crownpoint coach Sandy Pace said of their early exploits. "All of a sudden we were playing better and that was the turning point for us."
The Eagles made some clutch plays during its opening drive. While facing a fourth-and-7, junior quarterback Noah Manuelito went 16 yards and reached midfield. On the next play, sophomore Isaiah Pool got some good blocking and gained another 24 yards for another first down.
But after gaining eight yards in three plays, Crownpoint's drive seemed to have stalled. Needless to say the Eagles went for it as Manuelito connected with Pool for a 17-yard reception.
Newcomb erased that early deficit and cashed in on some big runs with senior tailback Elijah Tsosie punishing Crownpoint's defense. The Newcomb senior utilized his leg strength and carried the ball six times for 82 yards, including a 17-yard score as he ran into the end zone untouched.
But as the game wore on, Tsosie was less effective as he finished the game with 47 more yards.
"If you get hit so many times from our big boys, it's going to slow you down," Pace said when asked if he did anything different to stop Tsosie's run. "You could tell in the second half we tired him down. We had a lot of people switching on him."
---