MV linebacker inks letter of intent with Minnesota college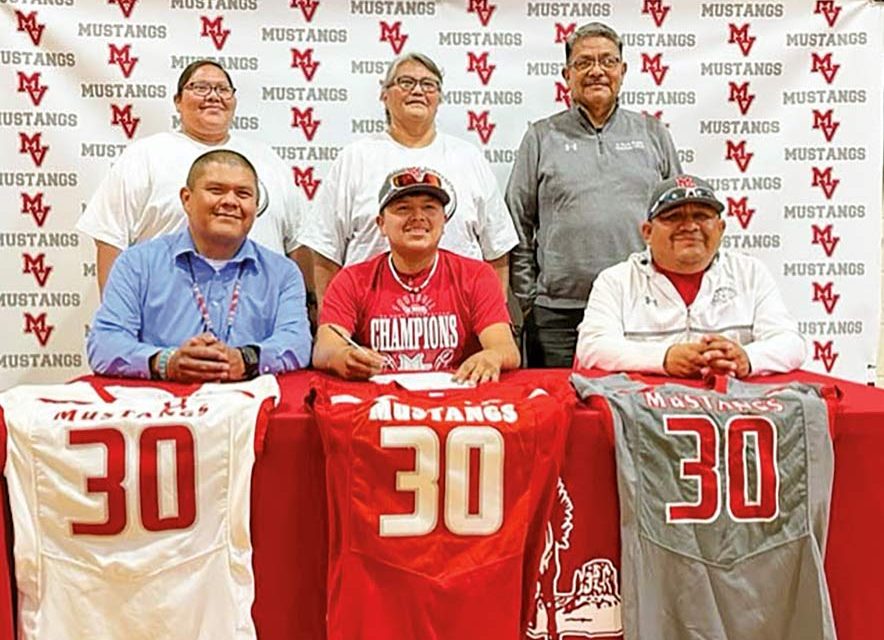 WINDOW ROCK
Monument Valley's Tashawn Miles signed his letter of intent earlier this month to play football for the University of Minnesota-Morris.
"It feels good," Miles said. "I want to keep going for my family and represent where I come from and to keep playing my favorite sport."
Miles has been playing sports for many years, taking part in basketball, baseball, wrestling and bull riding.
But football has been a constant favorite for him, having played the sport since the fifth grade. He enjoys catching and running with the ball, and when on offense he enjoys tackling.
This past season he was named the team captain.
Some of his proudest moments include being a part of the first rez team to defeat Winslow and Blue Ridge in recent years.
Football has taught him the importance of practice and learning from your mistakes. As a leader, he also learned the importance of taking the initiative and setting an example for others to follow.
He will miss home and will also miss MVHS, saying his four years there have been great.
He's committed to playing at Minnesota Morris, though he had hoped to find a school closer to home. Nonetheless, he sees this as a good opportunity to see the world while endeavoring his studies in sports management.
"It feels great because I get to explore more of what's out there," Miles said. "I've never really been out of the Navajo Nation so I'm going to enjoy my time in Minnesota."
MVHS head football coach Bryan Begay is happy for Miles' success, saying he is one of at least seven student so far this year from MV to sign a letter of intent, which is a high number for the school.
"It made me feel proud that our product is excelling, and colleges are noticing our athletes and their body of work," Begay said.
He said the coaches give their athletes the "recipe" to become better and it's up to the athlete to show what they're capable of.
Begay hopes their success will continue pushing them along into building good character. That at least was the football team's goal, to teach the team not only to become a better football player, but also to become a better person.
Miles is a great catcher; he helped secure the Mustangs with the win over Blue Ridge with a late interception. He was a familiar face in the MV program and became one of their best players, helping them win games and make playoff appearances through the seasons.
Begay knows Miles as a determined and committed kid who comes from a great family that loves sports and advocates for education.
He has a lot of respect for Miles as a person, being the oldest son in the family, and being raised by a single mother who works at Dennehotso Boarding School and makes sacrifices for her family.
Miles in turn works hard in school, having good organization skills, staying after school for practice, to work on activates or complete any other tasks. Begay is impressed how Miles would complete semester projects while maintaining his duty to the family, no matter the pressure. He has earned the trust and respect from students, faculty and even some administrators.
"Keyshawn Miles is an extraordinary young Native American man, as his teacher and coach, I've seen many examples of his talent and have been long impressed by his diligence and work ethic," Begay said.
Miles was a late signee who wasn't noticed at first, but Begay helped him find a college combine held in Phoenix where Miles was offered the chance to play at Minnesota Morris.
Begay spoke to Miles' future coach and said that he was looking for out of state athletes because he knows they won't quit. Begay is certain Miles will meet if not exceed their expectations; he knows his boundaries, he'll do his job and he has a natural love of football that will continue to drive him.
Miles gives thanks and love to his family. Though they all supported him on the field, they also encouraged him in his studies. For the big sports family, to have a son that earned a sports scholarship means a lot to both Miles and his family.
"I just wanted to represent the Navajo Nation out there in the world so anyone can know who we are and where I come from," he said.
---