A united front, Chinle cousins helping one another to excel in rodeo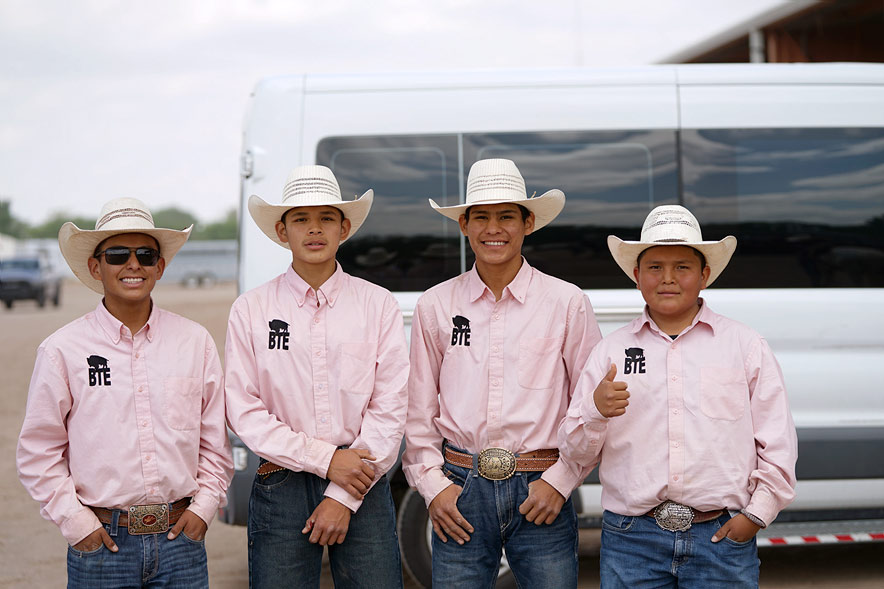 ALBUQUERQUE
Diego Begay, 16, has an affinity for training horses.
That love and passion has trickled into the rodeo arena as the Chinle High freshman is one of a handful of saddle bronc riders in the Indian Junior Rodeo Association.
"I trained a lot of horses and I had asked by uncle's bro for a saddle, and he set me up with one," Begay said on Saturday during the Kubs Junior Rodeo in Albuquerque. "This is my second year doing and I love it."
After taking his first plunge, his older brother, Alvero Begay, and cousin, Lorenzo Benally, followed suit.
"I got into it first before these two," he said. "They saw me do it, and they really got into it."
In addition to the IJRA, they also compete in the Western Junior Rodeo Association. The trio has another family member rodeoing with Uriah Benally taking up junior breakaway roping.
Of the family quartet, Alvero, 17, is the lone bareback rider as he placed first on Saturday with a 66-point ride aboard Tooke.
"It feels good to get one ridden," Alvero said as he had so-so results during the IJRA Membership Drive Rodeo earlier this month in Grants, New Mexico.
Alvero credits his success with what he learned at the recent bareback clinic held in Window Rock that was taught be veterans Delvecchio Kaye, Earl Thomas and Ed Miles.
At that clinic, he covered all of his three horses in a jackpot, which gave him confidence to ride up at the IJRA rodeo in Albuquerque.
"They were just right," Alvero said. "They were the right size for me and not too intense.
"I'm feeling good about how I'm riding, and I want to see where this gets me," he added.
Alvero said he likes the camaraderie he has with his younger brother and cousins have.
"We have our own little gang thing going on," he said. "They're actually riding really good because we all rode up today."
In the saddle bronc, Lorenzo placed second overall with a 66-point ride on Buckle Bunny.
"It felt really good," Lorenzo said. "I finally got to open up with my ride."
The older Benally sibling has been riding broncs for two years. Before that he used to do steer riding, but he gave that up when the global pandemic hit the area.
"I'm starting to rodeo again," he said.
When asked about the family camaraderie, Lorenzo said when he's not riding he's there to support his cousins.
"We encourage each other," he said. "I think that keeps us motivated, which keeps us in good place. It just gives us a lot of confidence."
"We like helping each other out," Diego said, while adding that he's looking to spread their wings in the next couple of years.
"I want to keep going with this," he said. "I want to challenge myself and get on bigger horses."
---