Newcomb becoming known for football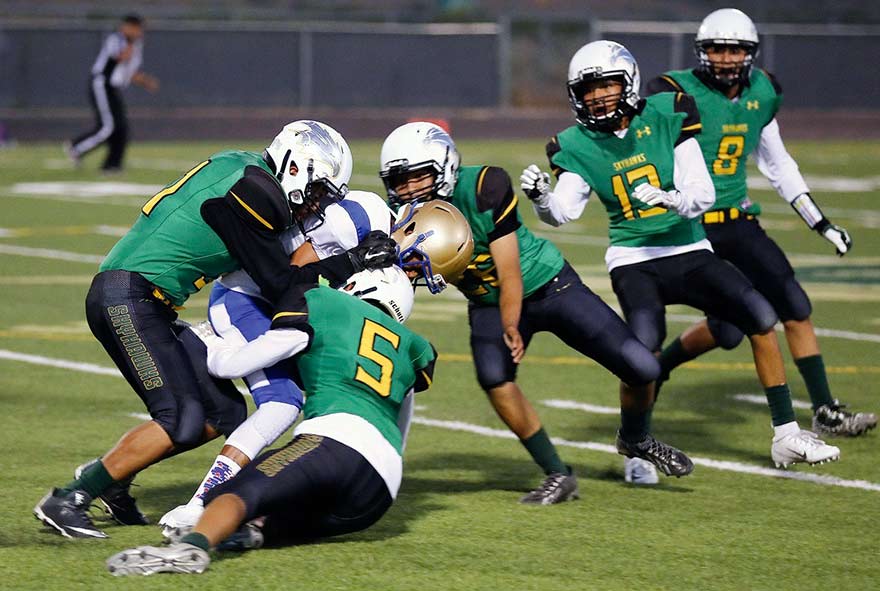 NEWCOMB
Just off of U.S. Route 491, the tiny town of T'iis Nideeshgizh is where a little bit of faith and a lot of heart go a long way.
It is where a group of student athletes have found a way to win, a place where the hunger to succeed has led the Newcomb High School football team to an undefeated record of 8-0 overall and 2-0 in 2A District 1/5.
It doesn't appear on any maps that point out the towns with the best football teams in the state.
Newcomb head coach Eric Stovall said his team is changing that every time they step on the field.
"Our kids play hard and our mentality, our mindset is real simple: When we play we play for each other, we play for our community, and we play with a lot of pride," he said. "When we get under the lights on Friday, our goal is to have fun and win ball games. That's testament to the kids' hard work, perseverance, and belief in each other."
Newcomb was most known for Captain Tom Dam, farming, its rich trading history, and its family-oriented community, but that changed with the start of the new football season.
The wave of change came with the hiring of Stovall. Stovall moved from Shiprock High School to Newcomb near the end of the last school year.
He also brought a new coaching staff.
Newcomb senior center and defensive tackle Tracy Bryant said it was a small change that made a big difference.
"We never had three coaches coaching us before. We had summer weight training. This year, this summer, we had a lot of training, workouts we did over the summer, which we also did throughout the season," he said.
The coaches not only brought a wealth of experience but much-needed attention to all areas of the game.
Stovall brought on a four assistant coaches: Sean Hayes, who coaches linebackers and fullbacks; Bill McLaughlin, the offensive and defensive line coach; Ronnie Armenta, defensive coordinator; and Ty Hayes, who coaches special teams.
Stovall said his assistant coaches have made big contributions.
"The work my assistant coaches have put in is tremendous. They are both mentors to the kids and assistant coaches," he said. "It really started with Coach (Dominique) Richardson (the boys' basketball coach). He developed that mindset, the mental toughness of the kids. Now they understood that and translated it into football."
---