Page uses all weapons, overwhelms Ganado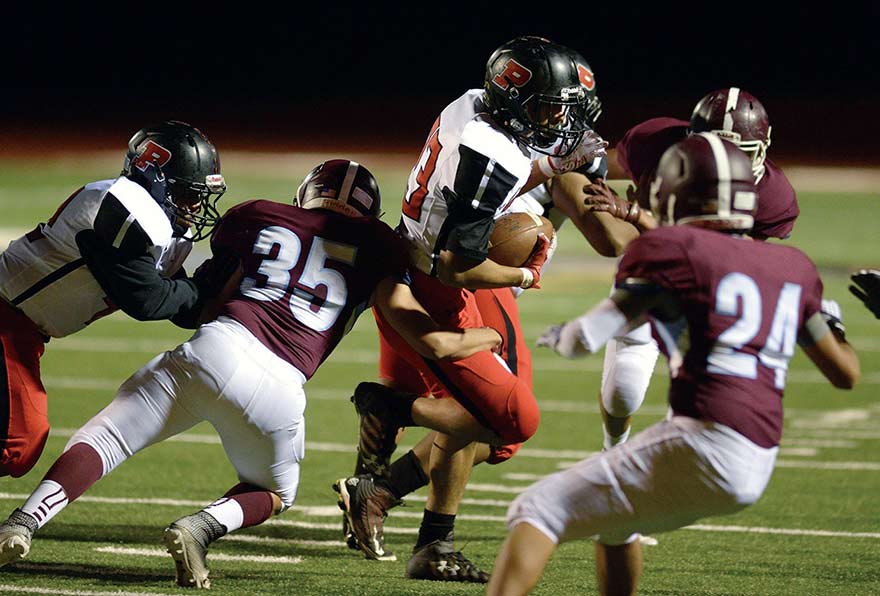 BURNSIDE, Ariz.
In the last three years the Page High football team has morphed into one of the elite football programs in 3A.
In the latest AIA poll, Page was ranked No. 4 behind Northwest Christian, Snowflake and Yuma Catholic.
The Sand Devils' only blemish was a 50-28 setback to No. 2 ranked Snowflake earlier this year. Since then Page has been on a tear, winning its games by a whopping 54-point margin.
Behind its remarkable running attack, Page jumped all over Ganado last Friday night and posted a 56-6 win with six players combining for 424 yards rushing as they improved to 7-1 overall and 3-0 in 3A North play.
"We have a lot of guys that work hard," Page coach Mitchell Stephens said. "Our quarterback and our tailbacks ran track last year so we have a lot of two-sport guys that worked on their speed during the offseason. We're also in the weight room trying to get better and faster."
The Sand Devils were just as impressive on the other side of the ball. For much of the night Page swarmed Ganado's offensive line.
"In our first few weeks our offense was getting a lot credit and our defense wasn't," Stephens said. "We take a lot of pride in our defense so our defense coordinator (Mark Openshaw) wasn't getting the recognition he should. We take pride in shutting people down and creating turnovers. We just have a lot of athletes out there."
In Friday's win, Page ran a couple of design plays that led to scores for senior tailbacks Kele Meredith and Hayden Gracias. The two players used their speed and combined for 225 yards and four TDs with Meredith going for 153 yards on eight carries and two scores.
With both players opening up the offense, it allowed sophomore Robert Smith to be effective at the quarterback position. Smith ran for 124 yards and completed 3-of-5 passes for another 70 yards as he was involved in three scores.
"We're all out there trying to compete for yards," Meredith said. "Our quarterback is just as good so every time we're out there we're getting after it."
---