'Magic': Balloon rally reports record turnout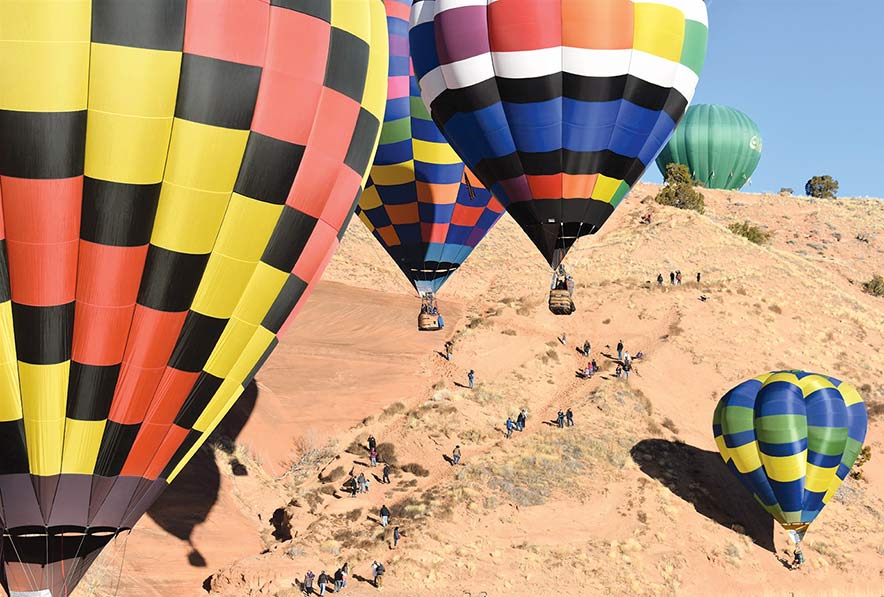 CHURCH ROCK, N.M.
It was a spectacular morning for balloonists and the record number of spectators who were at last Saturday's mass ascension at Gallup's scenic Red Rock Park.
Under clear blue skies, approximately 130 colorful hot-air balloons lifted off in a graceful procession that slowly rose up and over the red rock cliffs and drifted into the canyons.
"I don't know if you can find better eye candy than that," said Bill Lee, president of the Red Rock Balloon Rally Association.
Tourists and locals alike snapped photos quickly while looking up at the grand view of rising balloons.
"It's beautiful!" said Ervin Billie. "Everyone's out taking pictures and climbing up the hill. What I like to see is all of the kids out saying, 'Wow!!'… It's an experience. You don't get to see this every day."
"I like the colors and the beautiful red rocks and that it's close to home," said Ervin's wife Sheri Billie.
Sheri said she also appreciated seeing all of the people who came from different places to be at the rally.
"I know some travel far from different states and countries," she said.
Michaela and Casey Smith, who brought their three young daughters, said they also appreciated the diversity of attendees and everyone who made the vigorous trek up to the top of the red rock cliffs.
"This is our usual trail, the Pyramid Trail," said Michaela. "It was amazing — the crisp air, the balloons. They were beautiful and added more color to our walk this morning.
"Everybody, the tourists, the locals, even the grandpas and grandmas made it up!" she added.
Church Rock resident Lavina Benally said her family looks forward to the balloon rally every year. She said sometimes balloon pilots even land in their yard and bring gifts.
"It was such a beautiful day on Saturday to watch the balloons go up. We just walk outside and look up," chuckled Benally. "This year we were blessed with good weather and it was really nice to see the crowds and even vehicles parked on the side of the road."
'Balloonists' paradise'
"We have a world class balloon rally that has a small-town feel to it and that's what I love about it," said Lee.
Lee, who is also a McKinley County commissioner and head of the Gallup Chamber of Commerce, said the red rock environment makes it a "balloonists paradise" when the conditions are right because the canyons create their own way of maneuvering the balloons.
"We had a number of pilots who said Saturday was the best flight they've ever had in the red rocks, and that's coming from pilots some of whom have been here as many as 25 years," said Lee.
The currents generated by the red rock heating up "draws you up and pushes you out" of the canyons, explained Lee, which offers an exhilarating way to explore them.
"That is part of the magic of the Red Rock Balloon Rally," said Lee.
He said the "soft and gentle" conditions present on Saturday are one of the things pilots "live for," along with photographers.
"The rock is so smooth and soft that it doesn't hurt the baskets or the balloons when you get right up next to the rocks or even land on top of the cliffs," said Lee.
Vince from Gallup, who declined to share his last name, said he and his family have been coming to the balloon rally for 30 years.
"I think it's a wonderful event," he said. "There's a whole bunch of balloons and it's neat because now you're surrounded. They're everywhere – 360 degrees."
Vince and his wife, Indian Health Service physician Catherine Radovich, agreed attendance was "way up" for this year's event.
"There are a lot of Navajos," said Vince. "It's really cool."
"The numbers have just exploded, especially on a day like this," said Radovich. "This is the best I've seen it in 30 years and it's more fun than Albuquerque because of the scenery."
Vince and Radovich hiked up to the top of the large red rock ridge at the rim of the park along with their daughter and her boyfriend.
"It was perfect. The hike up was great," said Jason Walley.
"The balloonists said the best days are when they can play on these rocks," said Radovich. "I think it's one of the few balloon events in the world where they can actually do that. They were all sitting on top and talking to us."
"I think it's beautiful," said Krystal DeVore, who was sending photos to all of her friends. "We were up on top and had like 50 balloons all around us."
Youngsters Adrianna and Jacob Benally from Ya-Tah-Hey, New Mexico, also said they to liked the walk up to the ridge.
"I had fun climbing up the rocks and I liked the view," said Jacob, who counted 75 balloons from the top of the ridge.
"I live around here and this is my first time coming here. I enjoyed it," said Mariah Mariano from Mariano Lake. "We saw people walking up so we decided to go up too. You could feel the heat coming off of the balloons. It kept me warm."
Patricia Quam and her daughter Jazlyn Lalio from Zuni Pueblo said they came out to support Quam's dad in the rally's Pyramid Rock Run.
"It's the first time we've been here," said Quam. "It's amazing because we've never seen the balloons this close."
'A whole new level'
Lee, who's been with the rally for 25 years and a pilot for 22, confirmed that on the spectator side, attendance broke records this year.
Friday night's "Glow in the Rocks and Indian Dances" and Saturday's mass ascension had the largest crowds they've ever had, he said, and there were an estimated 5,000 people at the "Baloominaria" at the Rio West Mall on Saturday evening.
"It creates a great impact for Gallup," he said. "As long as we're doing things for our community and bringing in tourists and dollars it's always a good thing."
Lee also said the rally strives to be family-friendly and welcoming to locals.
The event is free with a $5 parking charge, and open to the public. Spectators can walk among the balloons as they are launching as well as wander the park.
"If you want to spend some time with balloonists you can get right up and talk with them and get to know them," he said. "It's very low-key and relaxed."
He encouraged those who might like to go on a balloon ride in the future to volunteer for a hot-air balloon "chase crew."
"You don't need to have any experience," said Lee. "The pilot will instruct you on what you need to do. We are always short crew people, especially people who know the area and the roads."
He said as a volunteer the balloon ride is free and you get to experience the rally at "a whole new level."
Lee says that the event couldn't be a success without the cooperation and support of local Navajo residents who agree to allow the balloons to come to their area.
"We take exceptional care and realize how important that relationship is between the rally and the Navajo Nation," said Lee. "We've been doing this for almost 40 years and we know many of these families by heart and by name."
He said many lifelong friendships have been formed over the years.
"It's ingrained into who we are," said Lee. "We embrace the culture and those traditions and love having the relationships we have with the Navajo people."
Furthermore, he says one of the big draws for balloon pilots is that most of the rally prizes are Native American art, jewelry, rugs and pottery.
Lee said next year balloonists and spectators can look forward to the 40th anniversary of the rally, which will be "even bigger and better."
Mother and son Tanona Antone and Jacob Joseph Antone said they got their workout for the day climbing up the rocks to see the balloons from the cliffs, but it was worth it.
"It's breathtaking," said Tanona Antone. "We were right in the middle of it. You don't know if you'll ever see that again."
Tanona said the pilots who talked to them said that it's the red rocks that draws them here year after year.
"That's what makes ballooning here different from any other place in the world," said Lee. "We have this incredible back yard and these incredible conditions that really make it one of a kind."
---