Thanksgiving with the pigskin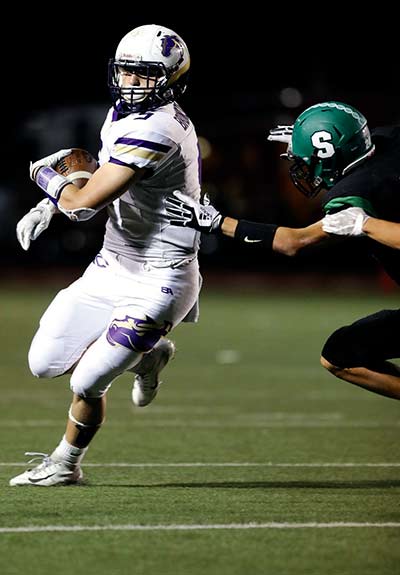 Kirtland Central's not taking a break
FRUITLAND, N.M.
While most players look forward to enjoying meals with their families during Thanksgiving Break, the Kirtland Central High School football team hopes to find themselves on their football field.
The team is working toward earning a comfortable spot in the postseason, and is making it happen one game at a time.
The Broncos defeated 4A District 1 rivals Bloomfield 26-14 last Friday in their latest step toward their ultimate goal. The victory put them 2-0 in district and one game away from earning the district crown.
Kirtland Central head coach Greg Jenks said the team played well but didn't exactly show their full potential.
"We knew they'd be tough competition and they definitely came out to play," he said. "We didn't have our best game, but our boys kept on fighting; that was the fun part to see even though things weren't going our way sometimes."
The two teams battled back and forth throughout the game, but Jenks said his team seemed to play a little more balanced than usual.
He said they've been working on putting an entire package together and they showed they were able to do that in spite of the competition.
"I feel like offensively we're finding that balance between run and pass," he said. "Then defensively, we've been able to create a lot of turnovers."
Kirtland Central will meet Gallup for their final district game tomorrow in Kirtland starting at 7 p.m.
Jenks said his team seemed fairly prepared in Monday's practice.
He said the look forward what could be a district crown.
"I think the fact that we didn't play the well, we didn't play as well as we were hoping to against Bloomfield, I believe that has the boys super focused to play well this week regardless of who the opponent is," Jenks said. "If it wasn't our best Monday practice, it was one of the best Monday practices of the year."
---