Local stock contractor's bull chosen for PBR World Finals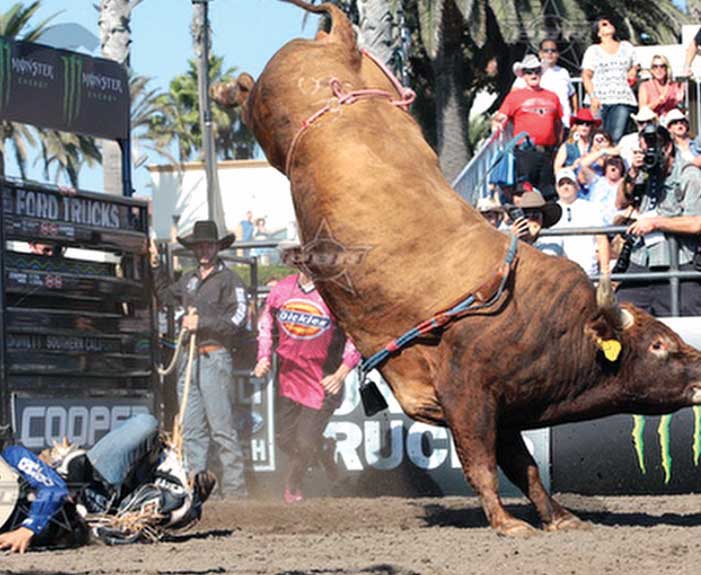 ABOVE: Hungry Eyes, a product of Navajo stock contractors W/Y Bucking Bulls, bucks off a rider during the 15/15 Bucking Battle held in Huntington Beach, Calif., last weekend. Hungry Eyes was invited to the Professional Bull Riding 2014 World Finals in Las Vegas held Oct. 22-26. Hungry Eyes is 7-0 and remains unridden in the PBR Tour. (Courtesy photo)
---
FRUITLAND, N.M.
Terry Walker has spent the last 15 years digging deep into his pockets and working long hours tending to his bucking bulls and as of this week it has been worth it.
Walker, who owns rough stock company W/Y Bucking Bulls, had one of his bulls selected for the Professional Bull Riders 2014 World Finals in Las Vegas, Nev., Oct. 22-26.
His bull named "Hungry Eyes," who has remained unridden in the PBR Tour, holds a record of 7-0.
Walker said it is exciting.
"This is about the highest level you can get to," he said. "I'm just exited to be here. It is like a dream come true."
In his prime, Walker once rode bulls. He said he rode for about 17 years, mostly in Indian rodeos, and eventually got a PBR card in 1997.
He rode the PBR circuit here and there but after he suffered an injury he decided to start a stock contracting business.
"I started off with just a couple of cows," he said. "Just like with everybody else that has stock, you got to be looking for specific types of blood line. So I started hunting for some blood line in cows."
His search led him to Texas where he befriended a stock owner who taught him the ropes of the business.
"I learned how to be independent on raising bulls and bucking bulls," he said
Walker started his business with his wife Philanna Walker and his brother Elmer Yazzie, who the "Y" stands for in the company's name.